» Life Size Sitting Bronze Mermaid Statue for Garden Decor Wholesale BOKK-706
Product Detail
About You Fine
Product Tags
Our sitting bronze mermaid statue has a lot of pleasing details to discover. She has a beautiful arched tail with flowing hair in the wind. The intricate details of the life-size mermaid statue adds a sense of realism and magic to the artwork. Our skilled craftsmen use the traditional lost wax method to individually cast this bronze stunner. They highlight her pretty face and delicate and prominent scale, ensuring lasting beauty. The bronze mermaid sculpture often features a patina finish, which adds depth and texture to the bronze surface and complements the natural surroundings. This YouFine exclusive and handed-down quality bronze garden statue will surely become the focal point. It conveys that you attach equal importance to the exterior and interior of your home. Therefore, it is an investment in quality and beauty that will last a lifetime.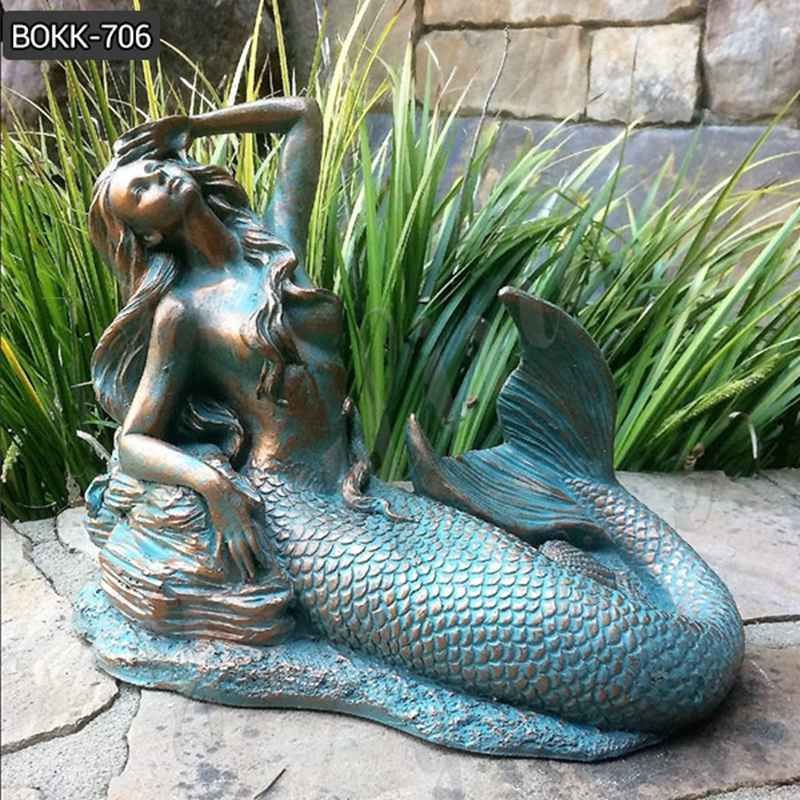 Production Process:
1. Skilled Clay Model Artists: YouFine employs highly talented clay model artists who excel in creating realistic and vivid artwork. With their expertise and continuous study, they can produce a lifelike clay model of the mermaid sculpture, capturing all the intricate details.
2. Silicone Rubber Mold: Our artists use high-quality silicone rubber to create the mold for the mermaid sculpture. This ensures that all the fine details, such as the flowing hair, delicate facial features, and intricate scales, are accurately replicated in the final bronze casting.
3. Wax Mold Chasing: Our attentive artists meticulously chase the wax mold, following the original pictures and client's requests. They ensure that every detail of the mermaid sculpture is faithfully reproduced in the wax mold, striving for a 100% resemblance to the original artwork.
4. Fine White Sand and Silica Sol: YouFine sources fine white sand from Inner Mongolia, known for its superior quality. This sand is used to make the sand shells for casting the bronze. Additionally, the incorporation of Silica sol, a nanomaterial with excellent acid resistance, ensures that the bronze sculpture remains free from white spots caused by traditional ammonia usage.
5. Upgraded Electric Heating Furnace: YouFine has upgraded its furnace from coal heating to electric heating. This modern heating method provides better temperature control and is more environmentally friendly, ensuring consistent and precise casting of the bronze.
6. Welding Expertise: Skilled welders at YouFine meticulously weld the bronze pieces together, paying careful attention to the original requests and the structure of the mermaid sculpture. This guarantees that the final sculpture retains its intended shape and structure, staying true to the original artwork.
7. Fine Polishing: Our artists delicately polish the bronze sculpture, striking a balance between preserving the intricate details and showcasing the overall artistic taste. This meticulous approach ensures that the mermaid sculpture closely resembles the original artwork and exhibits a high level of craftsmanship.
8. Patina Application: YouFine artists are experienced in applying patina to bronze sculptures. They expertly modulate different chemical liquids, applying them in layers and with heat, to achieve a beautiful and natural patina finish. This patina not only enhances the aesthetics of the sculpture but also ensures its long-lasting color and resistance to fading.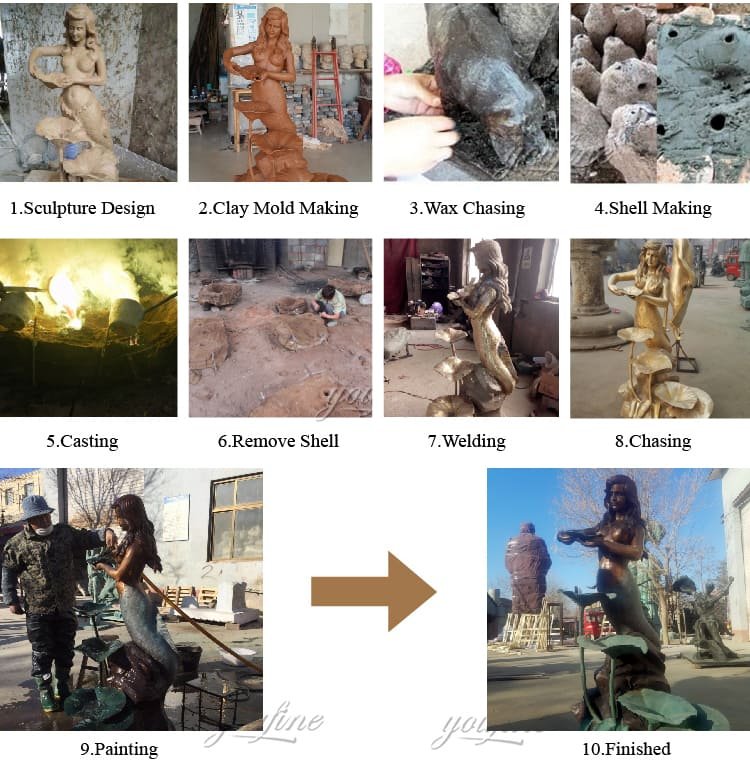 With these advantages and meticulous production processes, YouFine ensures that the quality and details of the bronze mermaid sculpture are meticulously maintained, resulting in a stunning and enduring artwork that will be cherished for years to come.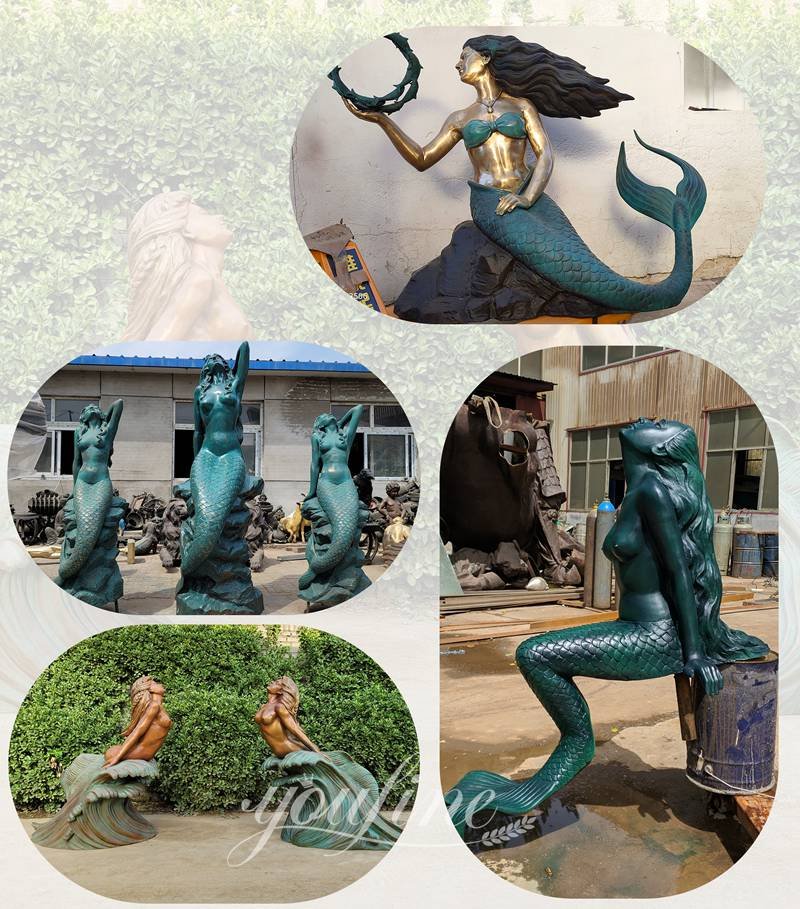 Custom Sevice:
Besides these Bronze mermaid sculpture designs, we could also accept customized ones to suit specific preferences and needs. Some may prefer a more traditional mermaid design, while others may prefer a contemporary twist on the classic mythological creature. The placement of the sculpture can also be tailored to the outdoor space, such as a fountain or poolside feature.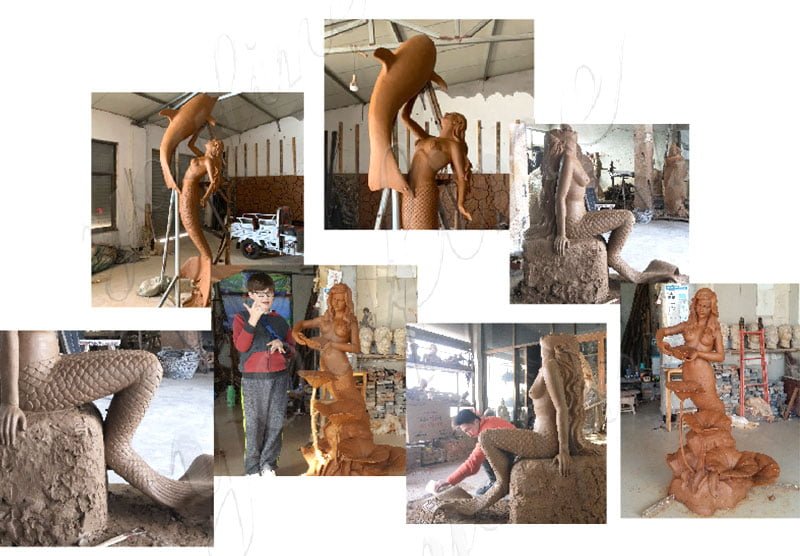 How to Choose the Right Mermaid Statue?
When it comes to choosing a large outdoor mermaid statue, there are many factors to consider. The size and scale of the statue should be appropriate for the space it will occupy, whether it's a private garden, a public park, or a commercial establishment. The design and style of the statue should also match the overall aesthetic of the environment and complement any existing decor or landscaping features. If you choose YouFine, you only need to provide your idea and the place where you will install this mermaid statue, our designers and artists will tailor the most suitable bronze mermaid statue fountain for you according to your needs. We will always be with you throughout the process of formulating the plan and fully respect your personal opinions and preferences. Finally, we will produce the bronze outdoor mermaid statue that best meets your expectations.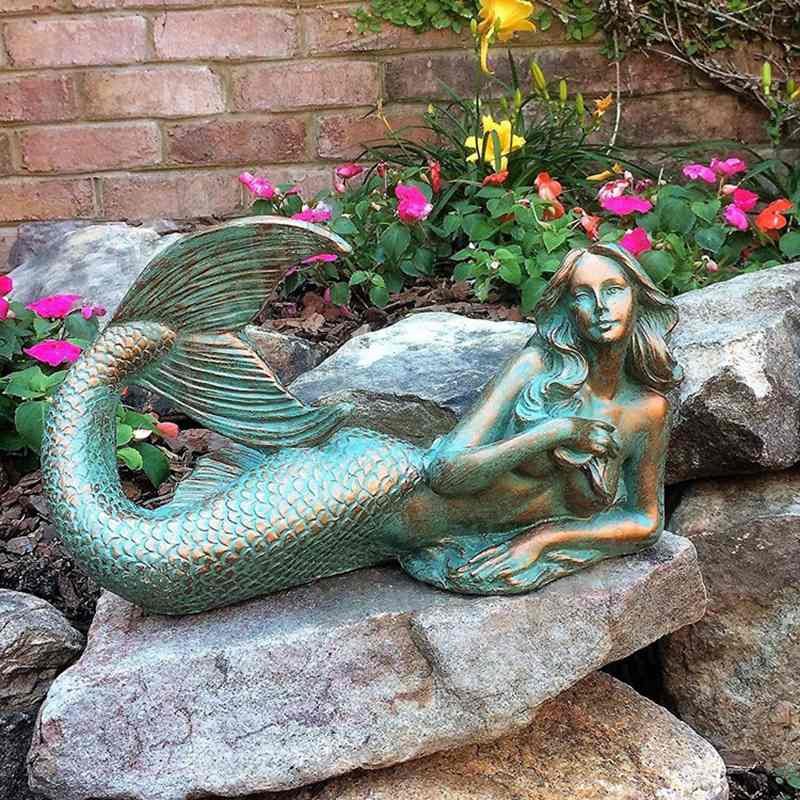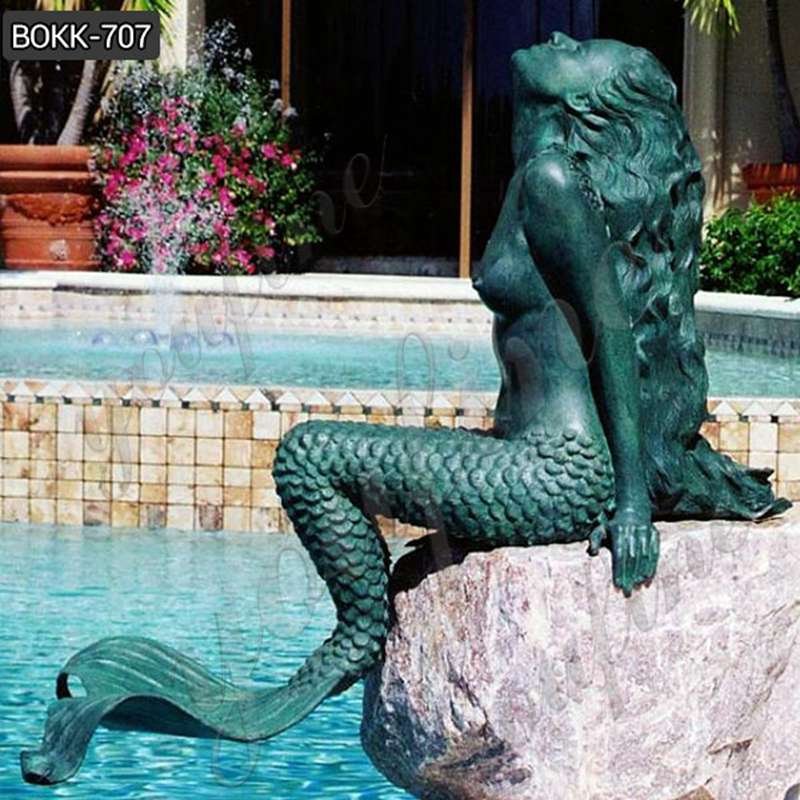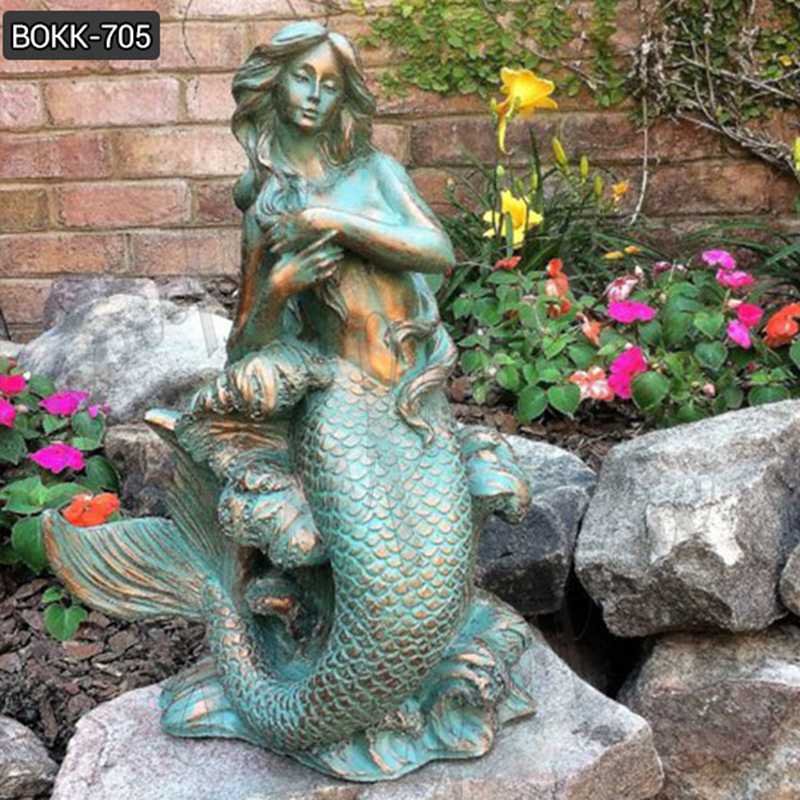 Related Products:
Bronze mermaid sculptures and statues are a popular choice for outdoor decor due to their mythical and enchanting nature. These sculptures capture the beauty and grace of mermaids, making them a unique addition to any garden, poolside, or waterfront property. The durability of bronze makes it an excellent material for outdoor sculptures, as it can withstand the elements and maintain its beauty for many years. These beautiful bronze mermaid statues are partly a maiden and partly a fish. Our mermaid throws her legendary temptation at the edge of the garden. Or add a pump, and it will become the focal point of your pond or swimming pool. The energetic mermaid is elegant and beautiful to become a hot-selling product. Our factory also provides other similar bronze mermaid products for you to choose from.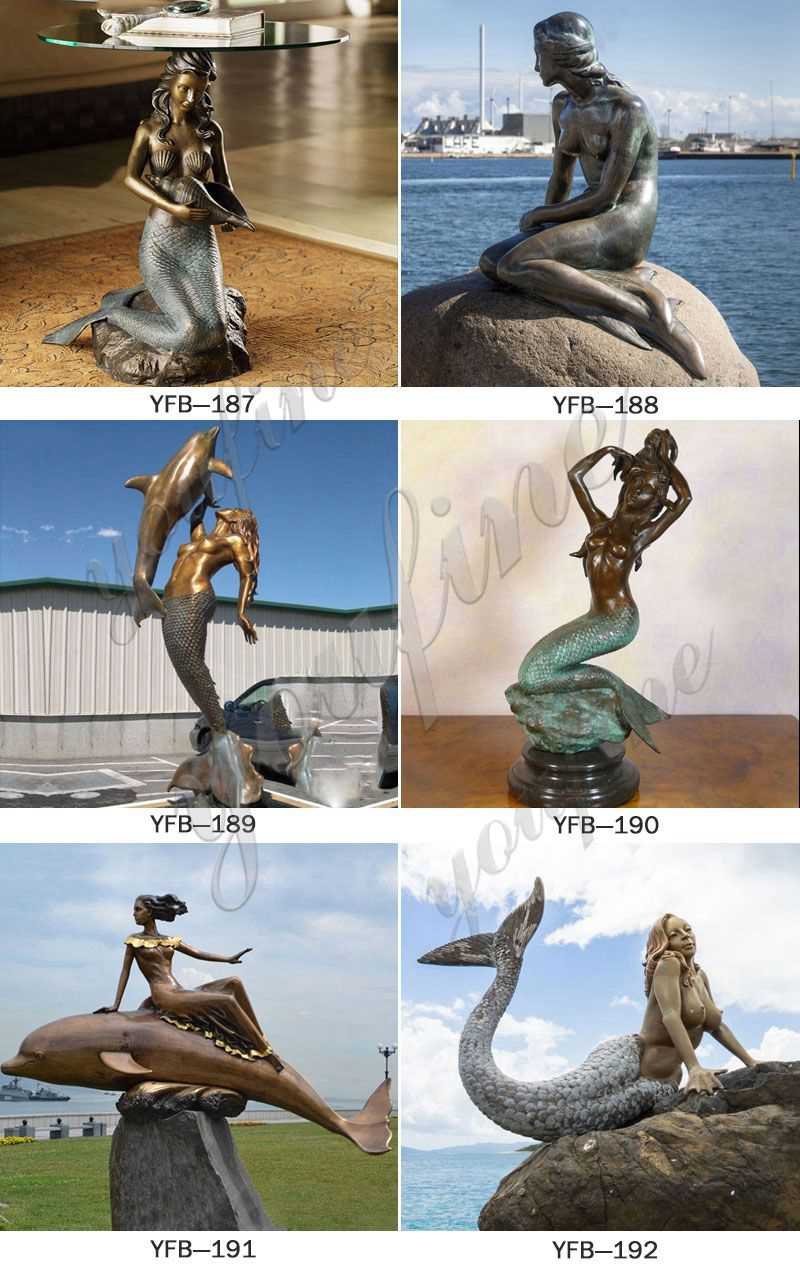 Packing:
For this sitting bronze mermaid statue, we will deliver it to you in strict packaging. The outer layer is a 3 cm standard wooden box (most of the others are only 2 cm thick), and the inner layer is plastic or foam. Besides, thick soft foam and double-strength ropes are fixed inside and outside the package respectively. Thus, it could effectively prevent damage to the goods. In addition, we will buy full insurance for your goods, so do not worry about it.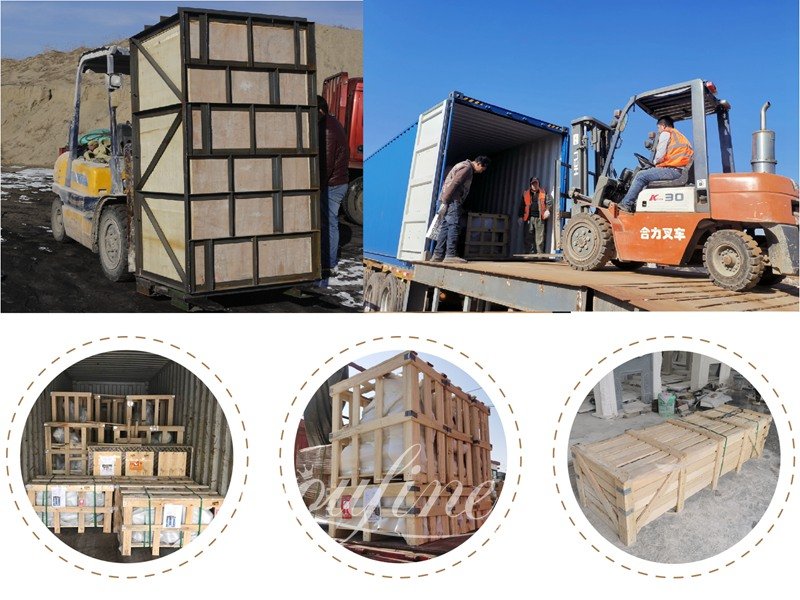 Quality Feedback from Customers:
" The life size mermaid statue turned out exactly as I had imagined it. The quality is lovely, and I'm looking forward to order more in the future." Valued comments  from the fairy tale author in America.  I think this bronze mermaid maybe the best remembered for his fairy tales.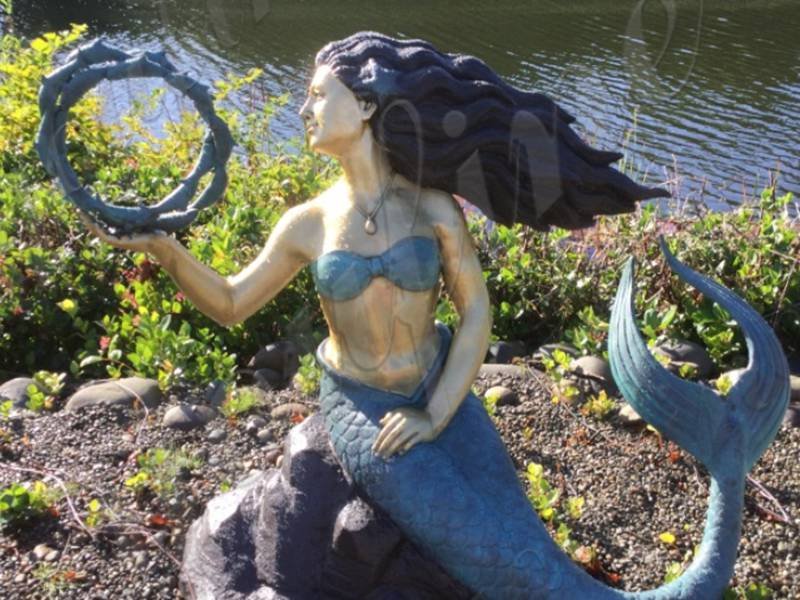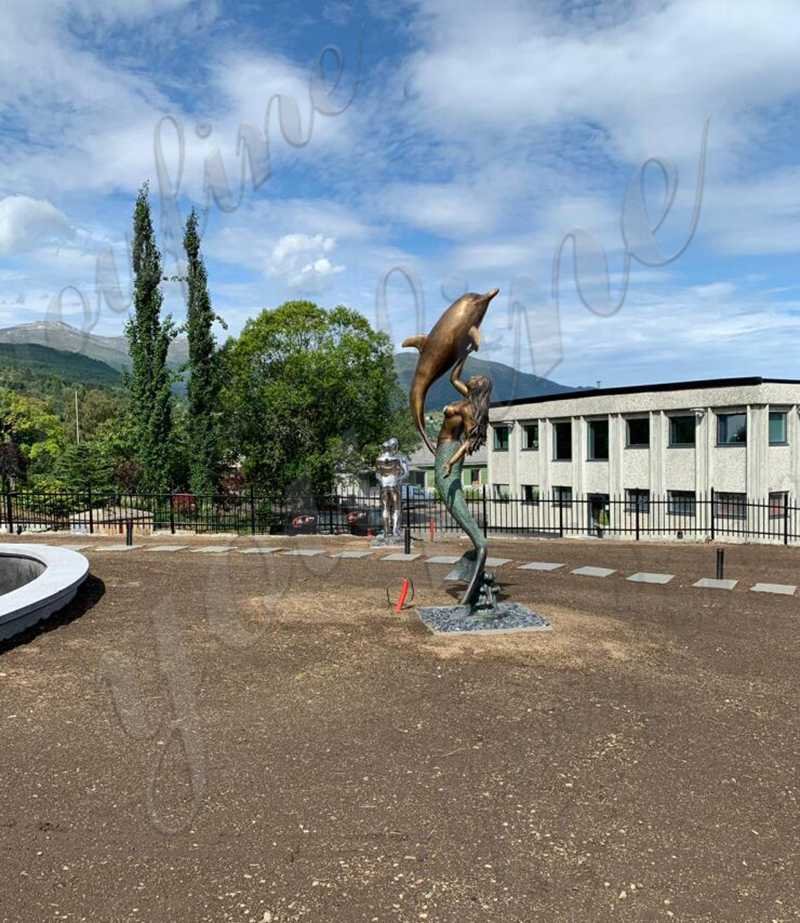 Please contact us for the best price about this life size mermaid statue for sale!
---
Previous: Reading Girl Design Bronze Custom Made Statues Garden Decor BOKK-174
Next: Overmantel Natural Marble Fireplace Surround for Sale MOK1-180
---

YouFine art and sculpture is a leading sculpture factory and exporter in Quyang County, which is known as the land of sculpture. And we are specialized in making hand-carved marble sculpture, life-size bronze sculpture, stainless steel sculpture and cast iron products. We have professional work group and designers. Your final product will not be finished until you have approved it completely.
 1. We welcome customized designs and sizes. We have a professional design team who can accommodate any custom project need. Exclusive mold studio and free model for use. We will try our best to satisfy your unique project requirements. 
2. To track your product progress, we will provide you photos at each important step in the process. You will clearly know how your sculptures are made in each production process. 
3. Good package and full insurance to cover all the risks during shipping. If something is damaged during the shipping, we will do our best to quickly send you a replacement.
Door to door delivery is also available.
4. The biggest difference between us and others is our commitment to the top quality in every aspect. From our skilled masters with sculpting for decades, to our strict QC team, we don't make delivery until you are satisfied. Making sculptures with heart, and doing it well are our lifetime goal.
You are more than welcome to visit our factory!
Looking forward to receiving your feedback photos or videos on YouFine sculptures!
————————————————————————————————————————————————————————-
Visible Quality, Professional Service.
❤ E-mail: [email protected]
❤ Phone: 0086-18974762151 | 0086-18632295031

❤ Whatsapp: 0086-13938480725
❤Address: Quyang County,Hebei Province,China