» Antique Bronze Legendary Charging Bull Statue For Sale BOKK-671
Product Detail
About You Fine
Product Tags

The bronze bull statue has long been revered as a symbol of wealth, strength, and vitality. Its legendary depiction captures the essence of a charging bull, representing determination and the pursuit of success. Beyond its representation of power, the bronze bull also embodies the harmony and fulfillment found in work and family life. Often found in urban areas, city centers, parks, and prestigious institutions, this majestic sculpture seamlessly integrates with its surroundings, creating a perfect fusion of art and architecture.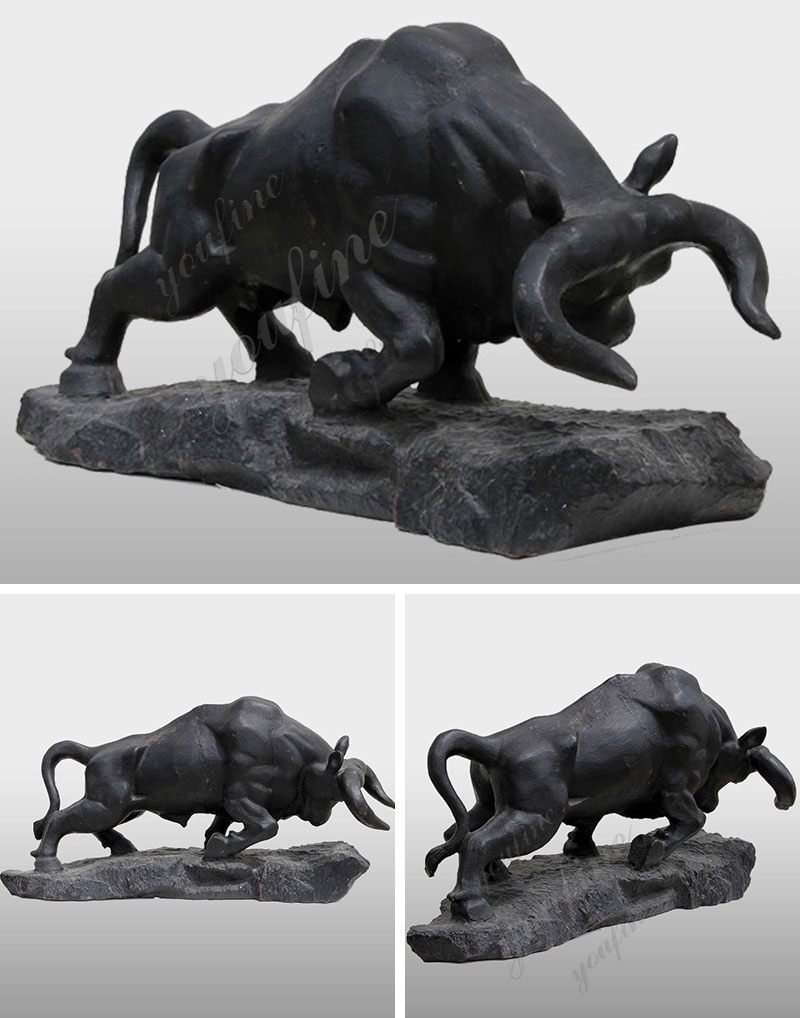 Variety of Bronze Bull Statues
Our factory offers a diverse range of captivating bronze bull statue designs. The Wall Street Bull, for instance, symbolizes confidence and resilience in the face of challenges, epitomizing dedication and commitment. These sculptures not only serve a decorative purpose but also hold profound moral and symbolic meanings. Each variation of the bull sculpture carries its unique symbolism and function. From plowing cattle to the renowned Wall Street Bull, we provide a wide selection to suit diverse preferences and settings.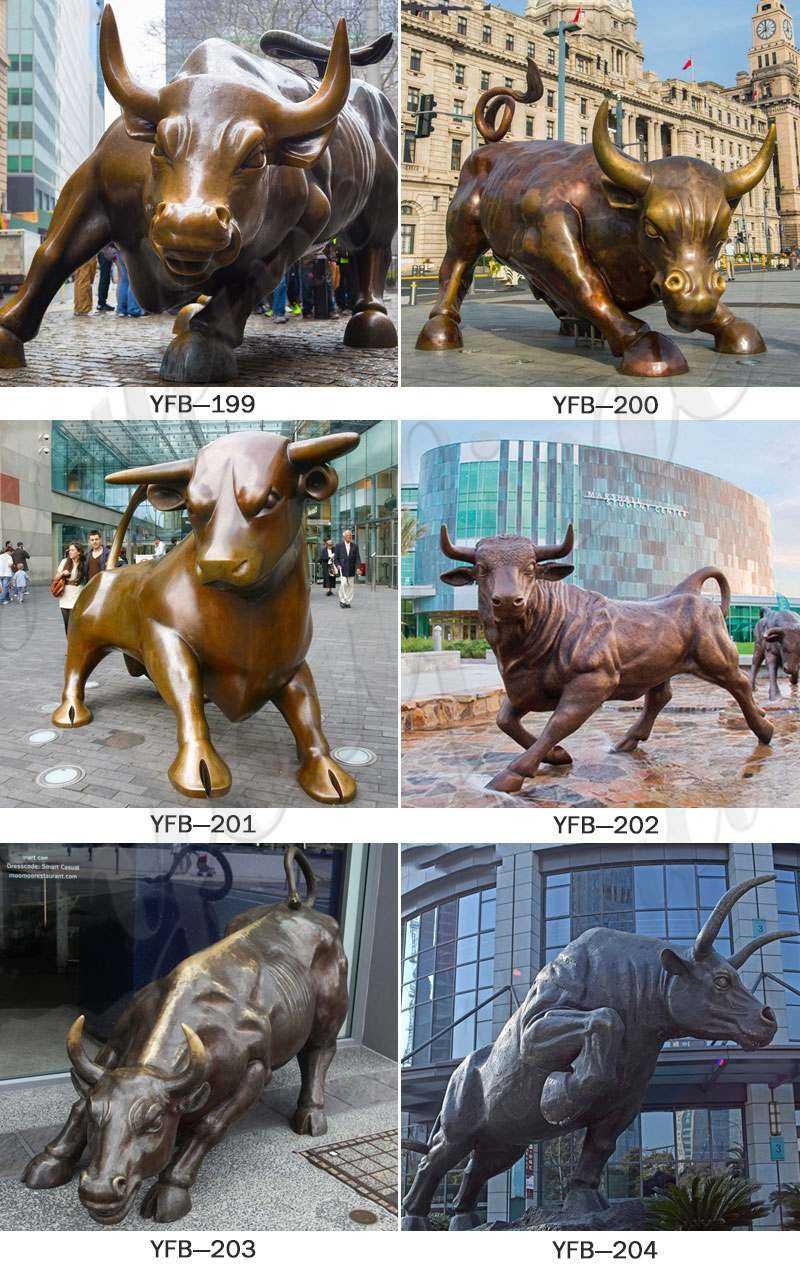 The Art of Crafting Bronze Bull Statues
Step 1: Sculpting the Perfect Clay Model
The creation of a high-quality bronze bull statue begins with expertly sculpting the clay model. This initial step is paramount in ensuring the sculptor's vision is translated into the final masterpiece. Meticulous attention is given to every detail, ensuring the clay model captures the desired form and essence.
Step 2: Wax Mold Creation and Refinement
Crafting the wax mold is a crucial stage that determines the final shape of the bronze bull statue. Our skilled artisans meticulously work with the wax, refining and perfecting its details. Temperature and time are carefully controlled to achieve exceptional results.
Step 3: Professional Casting, Welding, and Polishing
Masterful craftsmen take charge of the casting, welding, and polishing process, ensuring that every aspect of the bronze bull statue receives meticulous attention. From the careful fusion of the bronze elements to the intricate polishing that brings out its luster, our craftsmen exhibit their expertise in each stage of the creation process.
Step 4: Adding Patina for Beauty and Durability
Advancements in technology enable us to apply vibrant and enduring patinas to our sculptures. This final step adds depth and character to the bronze bull statue, resulting in captivating hues that enhance its visual appeal and ensure its long-lasting beauty.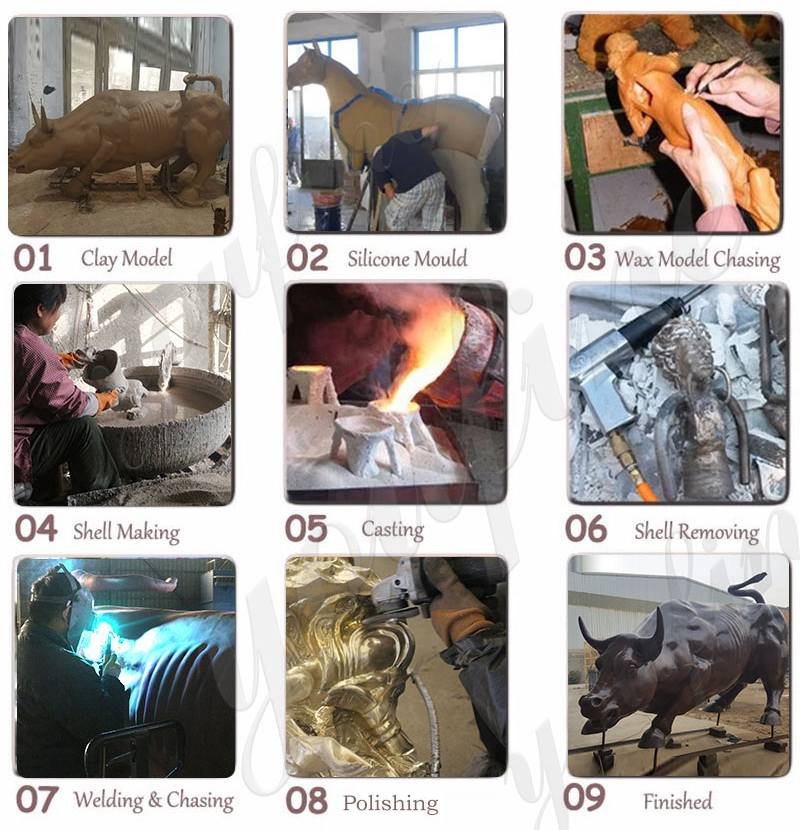 The Mold Showcase of Bronze Bull Sculptures
The clay mold serves as the foundation for creating exceptional bronze sculptures. At our factory, we employ highly skilled and talented model masters who excel in crafting exquisite clay molds. Their expertise in their chosen subject matter shines through in the precision and artistry evident in every detail. Take a glimpse at the captivating clay mold of our bronze bull statue!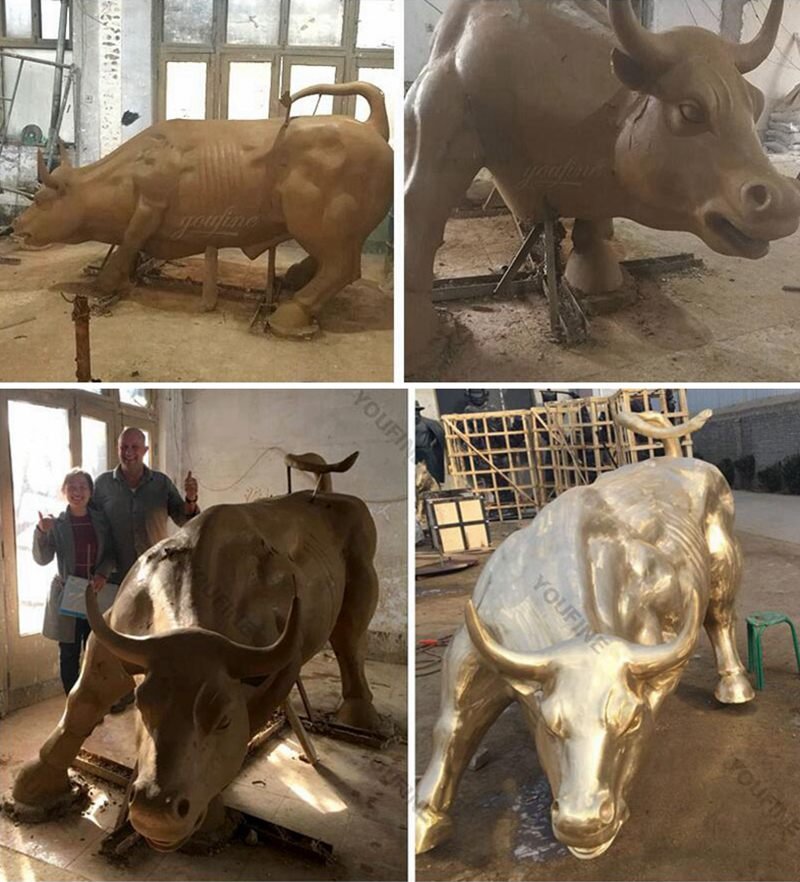 Choose You-Fine for Exquisite Bronze Statues
When it comes to acquiring the finest bronze statues, You-Fine is the ultimate choice. With our commitment to craftsmanship and artistry, we offer an extensive collection of bronze bull sculptures that captivate the senses and enrich any environment. Discover the allure and majesty of our bronze statues and experience the enduring beauty they bring to your space.
---
Previous: Greek Goddess Life Size Athena Stone Statue for Sale
Next: Life Size Art White Marble Horse Statue for Outdoor MOK1-184
---

YouFine art and sculpture is a leading sculpture factory and exporter in Quyang County, which is known as the land of sculpture. And we are specialized in making hand-carved marble sculpture, life-size bronze sculpture, stainless steel sculpture and cast iron products. We have professional work group and designers. Your final product will not be finished until you have approved it completely.
 1. We welcome customized designs and sizes. We have a professional design team who can accommodate any custom project need. Exclusive mold studio and free model for use. We will try our best to satisfy your unique project requirements. 
2. To track your product progress, we will provide you photos at each important step in the process. You will clearly know how your sculptures are made in each production process. 
3. Good package and full insurance to cover all the risks during shipping. If something is damaged during the shipping, we will do our best to quickly send you a replacement.
Door to door delivery is also available.
4. The biggest difference between us and others is our commitment to the top quality in every aspect. From our skilled masters with sculpting for decades, to our strict QC team, we don't make delivery until you are satisfied. Making sculptures with heart, and doing it well are our lifetime goal.
You are more than welcome to visit our factory!
Looking forward to receiving your feedback photos or videos on YouFine sculptures!
————————————————————————————————————————————————————————-
Visible Quality, Professional Service.
❤ E-mail: [email protected]
❤ Phone: 0086-18974762151 | 0086-18632295031

❤ Whatsapp: 0086-13938480725
❤Address: Quyang County,Hebei Province,China