» Outdoor Catholic Our Lady of Lourdes Statue Garden Decor for Sale CHS-818
Product Detail
About You Fine
Product Tags
Our Lady of Lourdes Statue Details:
Looking for a stunning addition to your outdoor Catholic garden? Our Lady of Lourdes Statue is a beautiful piece that will surely enhance the beauty of any garden or yard. This statue depicts the Virgin Mary in her apparition at the Lourdes grotto in France in 1858. The statue is crafted with utmost care and attention to detail, ensuring that it captures the essence of the moment it represents.
This outdoor catholic our lady of Lourdes statue is a really an elegant reminder for any place decor. This marble lady of Lourdes has the most classic gestures of folded hands. With a string of rosary hanging on the arms, the blue belt is also the most attractive part. Our Madonna is wearing marble gown and embellished with an appealing gold rim. As church or garden decorative statues, this saint statue is finely carved from pure white marble. You can see every vivid details throughout.
Made of high-quality marble or other durable materials, this statue is weather-resistant and can withstand harsh outdoor elements. The Our Lady of Lourdes Statue is a perfect addition to any garden, backyard, or outdoor space, as it exudes a sense of peace, serenity, and spirituality. It can also serve as a wonderful memorial or tribute to loved ones who have passed away.
The Our Lady of Lourdes Statue is available in a range of sizes and styles to suit your specific needs and preferences. You can choose from a variety of finishes, such as classic white, antique bronze, or painted colors, to add a touch of elegance and uniqueness to your garden.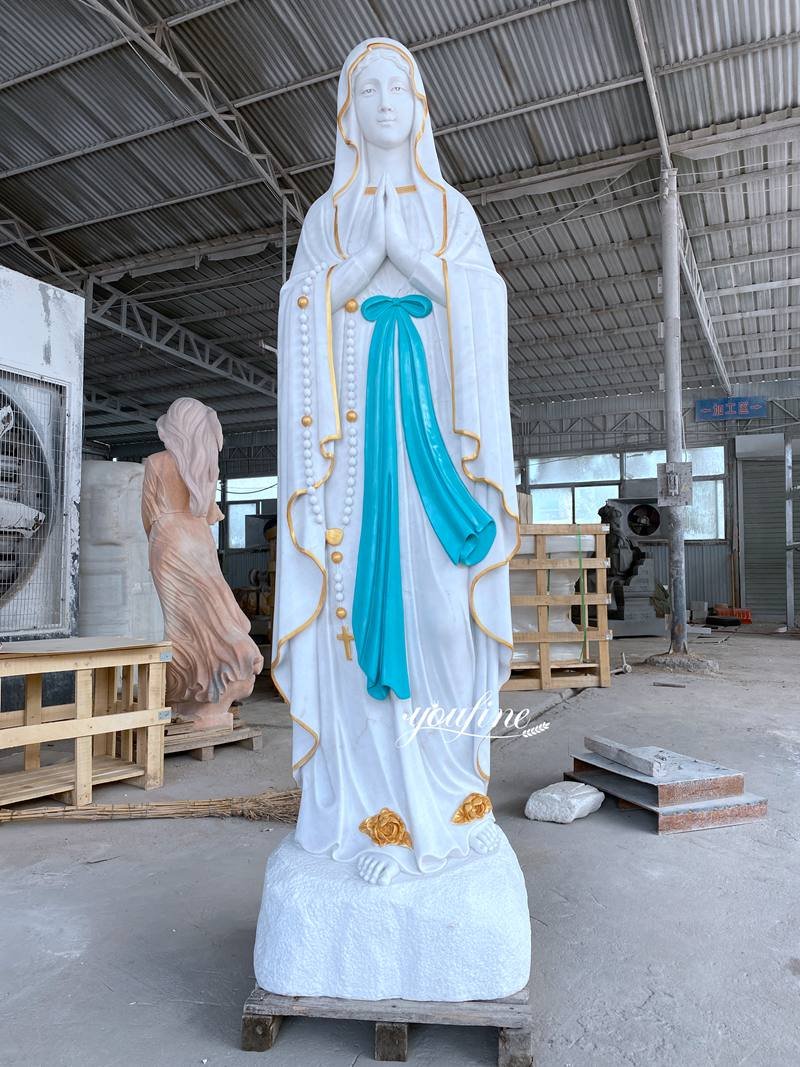 Our Lady of Lourdes and Lurdes outdoor statues have long been a popular way for Catholic and Christian communities to honor and celebrate their faith. Made from durable materials like bronze, stone, or resin, these statues are designed to withstand the elements and remain beautiful for many years. Many people choose to display these statues in their gardens, creating a peaceful and meditative space for prayer and reflection. With their serene expressions and flowing robes, Our Lady of Lourdes and Lurdes statues also make a stunning addition to church yards, courtyards, and other outdoor spaces.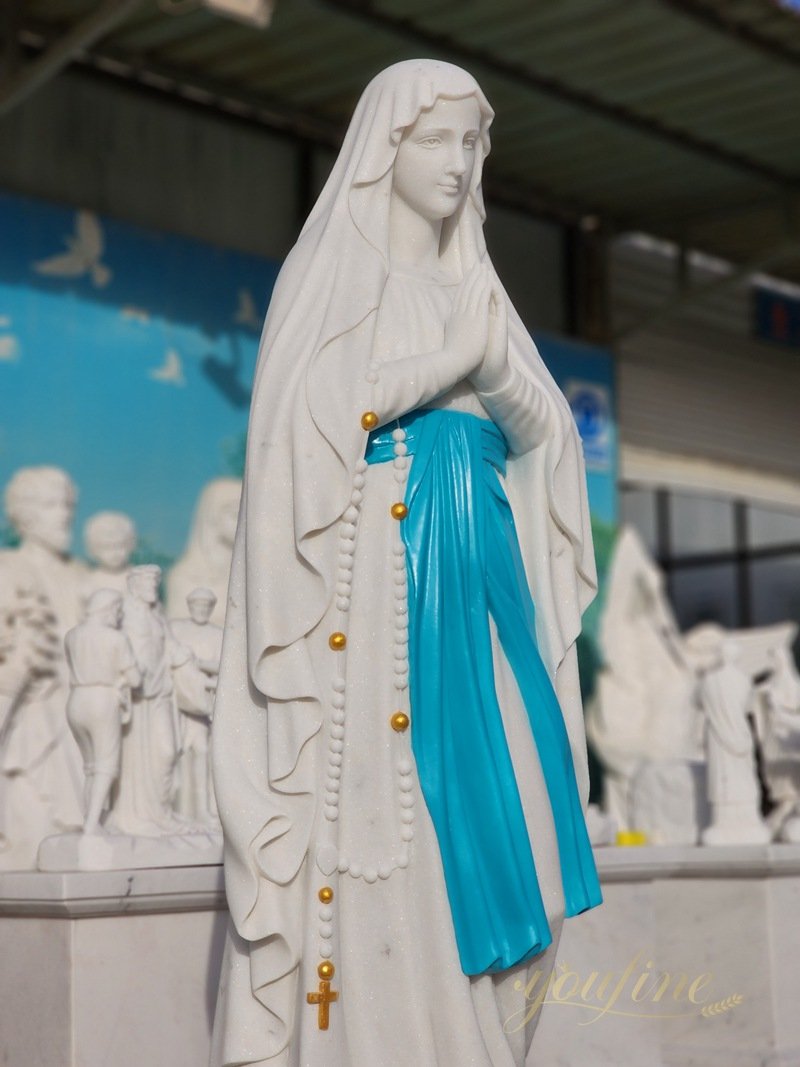 Our lady of lourdes statue outdoor decoration is inspired by the Virgin Mary of the Roman Catholic Church. This outdoor our lady of lourdes statue commemorates the apparition of Maria in 1858 near Lourdes, France. The first was the ghost of February 11, 1858 (our lady of the lourdes), when 14-year-old Bernadette Subirus told her mother that a "lady" was in the Massabi Cave (distance A kilometer and a half from town) spoke to her. Such is the source of our Virgin of Lourdes. Many people worship Our Lady of Lourdes. Therefore, the sculpture of Our Lady of Lourdes is very popular. YouFine has long supplied life-size outdoor statues of Our Lady of Lourdes for churches, using natural A-grade marble as raw material. So our lady of the rosary statues for sale is of top quality and detail.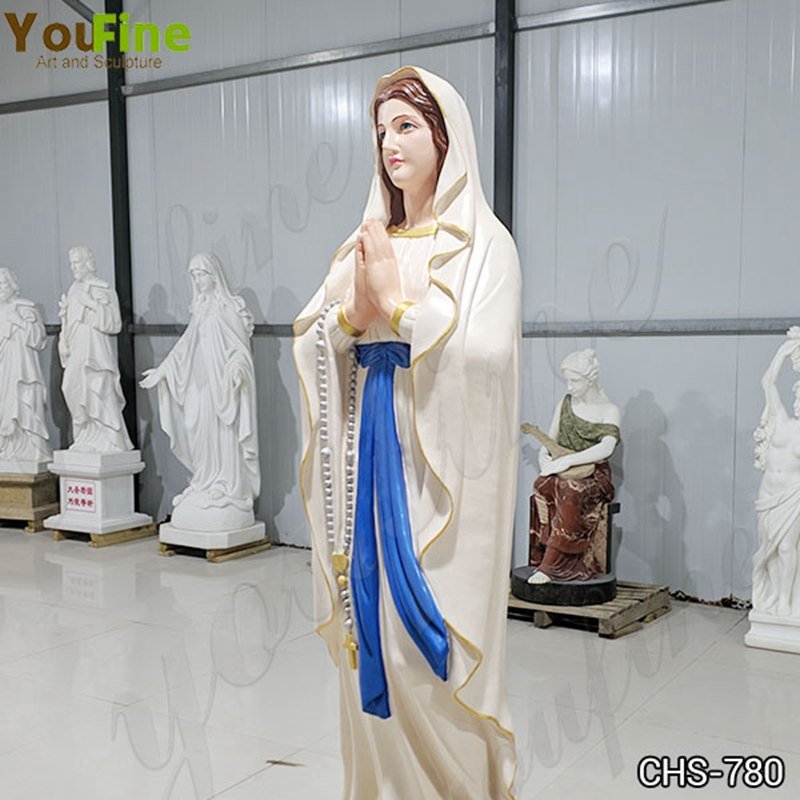 Factory Show:
We accept custom Catholic sculptures in many sizes and designs, Virgin Mary sculptures, Jesus sculptures, Our Lady of Lourdes sculptures and more.
In addition to providing customers with high-quality Our Lady of Lourdes and Lurdes outdoor statues, our factory also offers a range of customization options. We understand that every customer has unique needs and preferences, which is why we are happy to create statues in a variety of sizes, styles, and finishes. Whether you are looking for a small and portable statue or a larger-than-life centerpiece for your garden or church yard, we can work with you to create a statue that meets your exact specifications.
When it comes to customization, the possibilities are endless. You may want to add special features or details to your statue, such as a customized plaque or inscription. You may also want to choose a specific color or finish that complements your outdoor space or reflects your personal style. Whatever your vision may be, we are committed to bringing it to life and creating a statue that you will cherish for many years to come.
Once your customized statue is complete, our team can also provide guidance and support for installation and maintenance. We understand that outdoor statues require special care to remain in good condition, and we are happy to share our expertise with our customers. From ensuring proper anchoring to regular cleaning and waxing, we can help you keep your statue looking beautiful and pristine.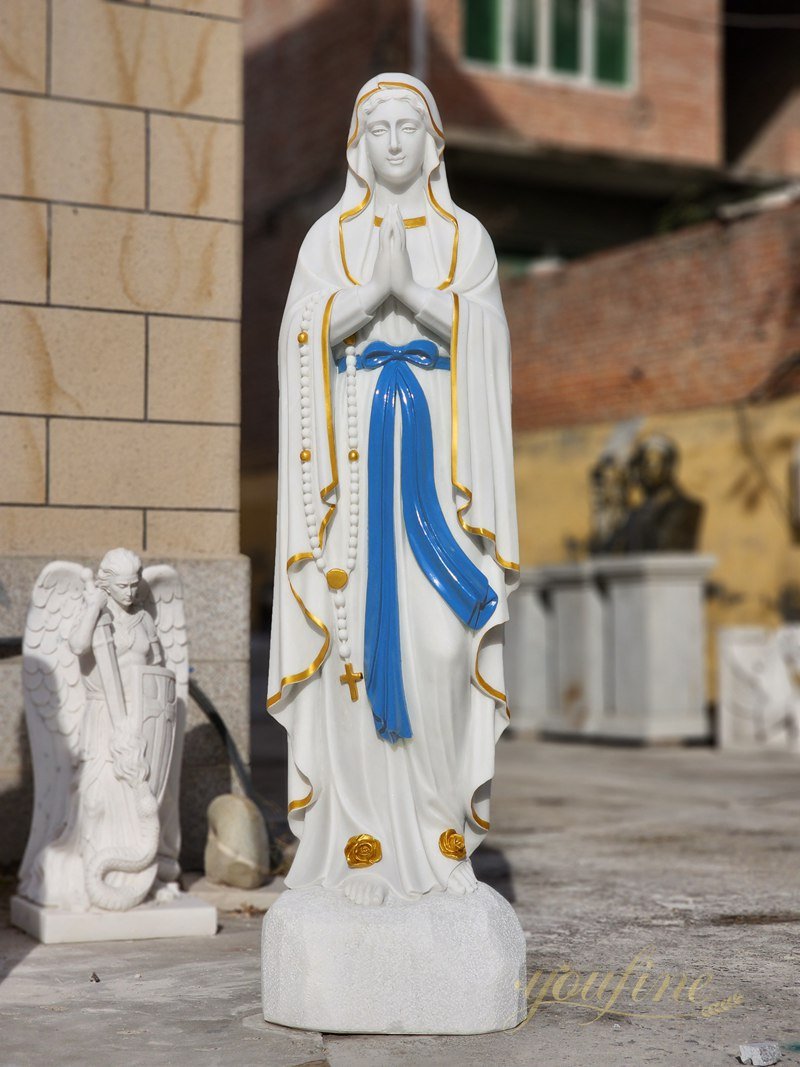 In summary, our factory offers not only high-quality Our Lady of Lourdes and Lurdes outdoor statues, but also the flexibility and expertise to create a customized statue that meets your exact needs and preferences. Whether you are a Catholic looking to honor your faith, or simply appreciate the beauty and symbolism of religious art, our customized outdoor statues are a meaningful and enduring way to express yourself and enhance your outdoor space.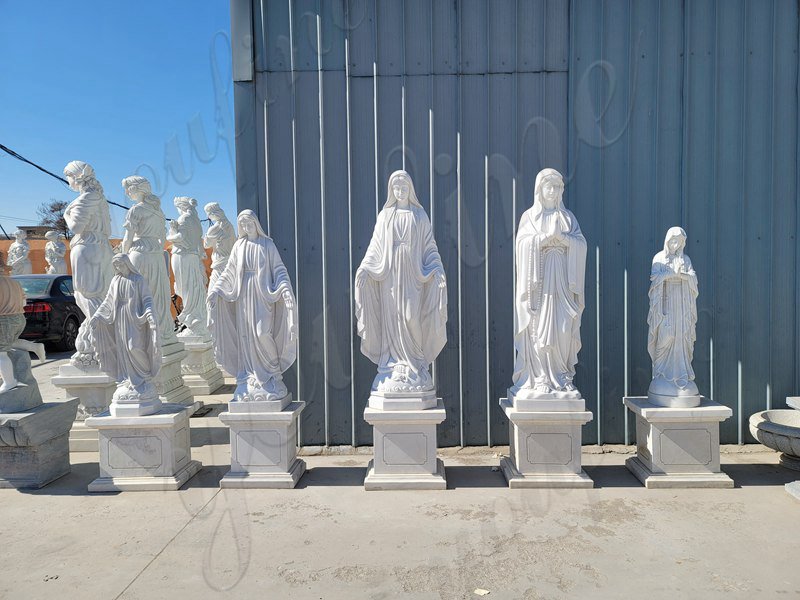 More Catholic Statues:
YouFine has made thousands of marble Lourdes statues for our customers worldwide. If you prefer a certain marble sculpture, we can refer to the local products of our individual or church customers for your reference. We have a deep friendship with every partner we have worked with. In addition to this type of our lady of Lourdes, we also have other popular religious figures. For examples, the Virgin Mary marble statue, Jesus marble statue, our lady of Fatima statue, Madonna and child garden statue, our lady of grace statue, marble Pietà statue, etc. Tell me what you like the most, we make exactly the same sculptures for you.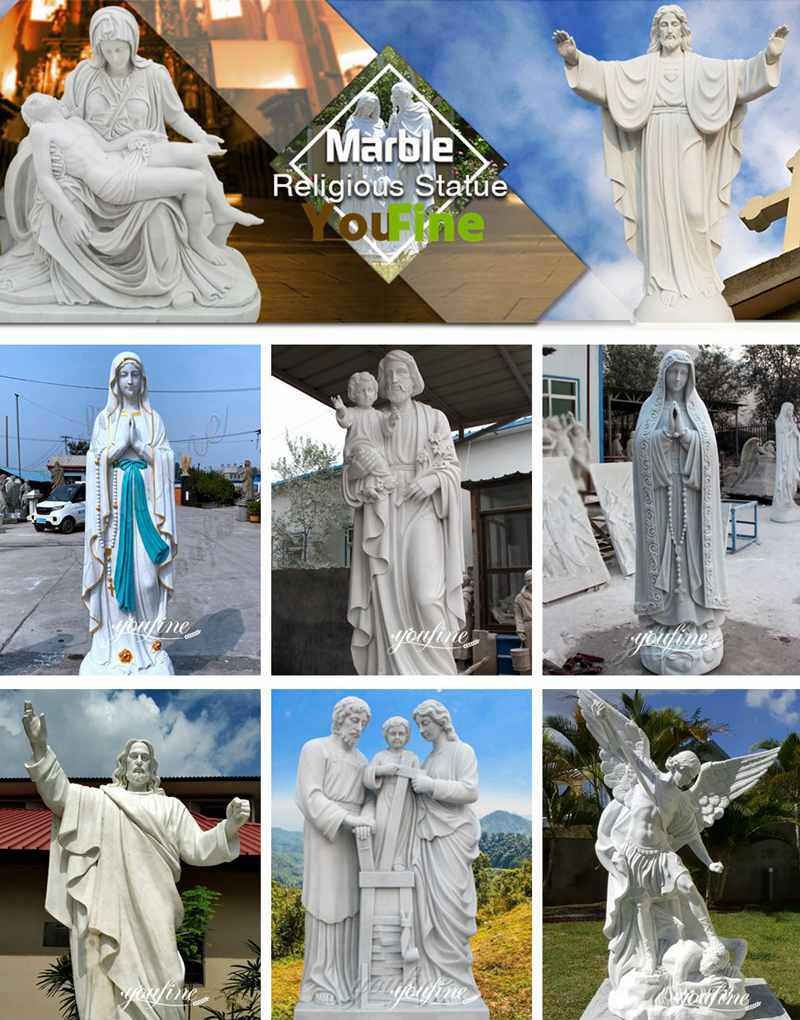 Top Masters:
YouFine has hundreds of professional sculptors to make catholic statues. Each of them is also a devout Catholic and has a full understanding of the characters. From cutting large pieces to fine carving characters, each master has decades of experience and can handle it with ease. For this our Lady of Lourdes statues, we are completely confident to make exactly the same sculpture.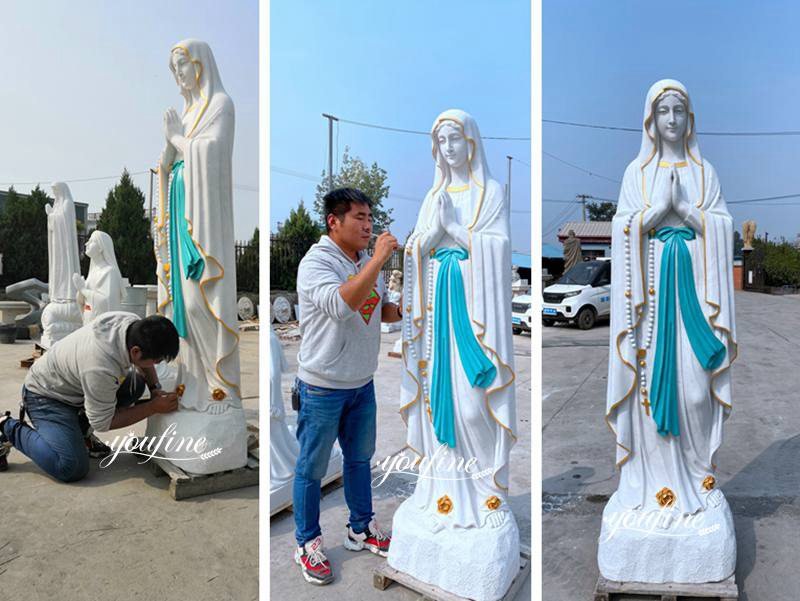 Detailed Carvings:
When you receive our lady of Lourdes statue, you must be astonished by YouFine's detailed carvings. The major reason why every customer chooses YouFine is that our lady of Lourdes statue is very lifelike, especially the face. Each face of the Virgin has a very charitable and friendly facial expression. There was a smile at in her mouth, and his eyes also shows kindness. Every devout worshiper will be influenced by her. It is our responsibility to make every marble religious garden statue well.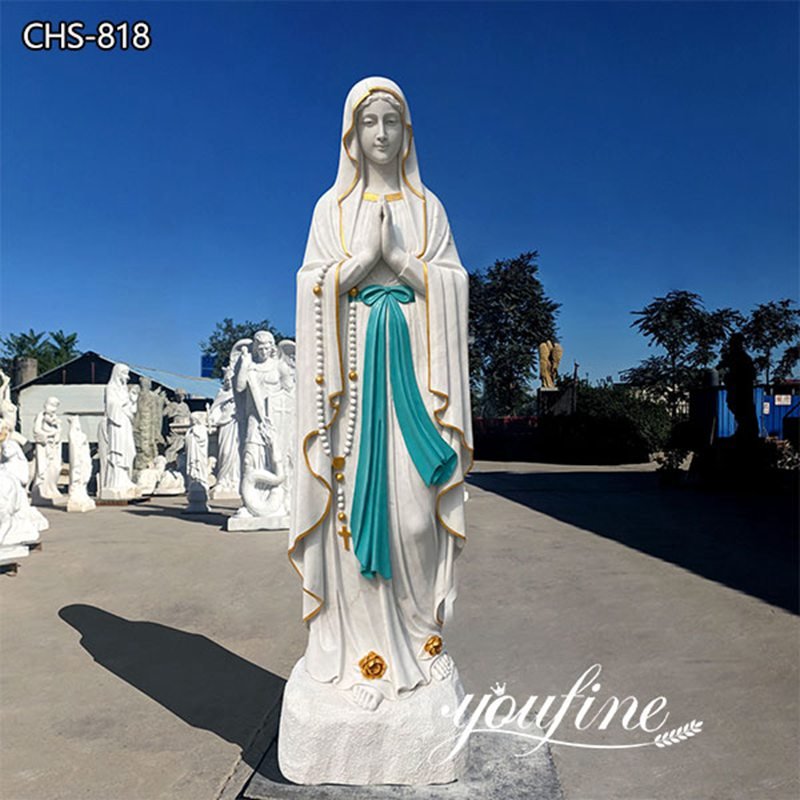 Customers Feedback: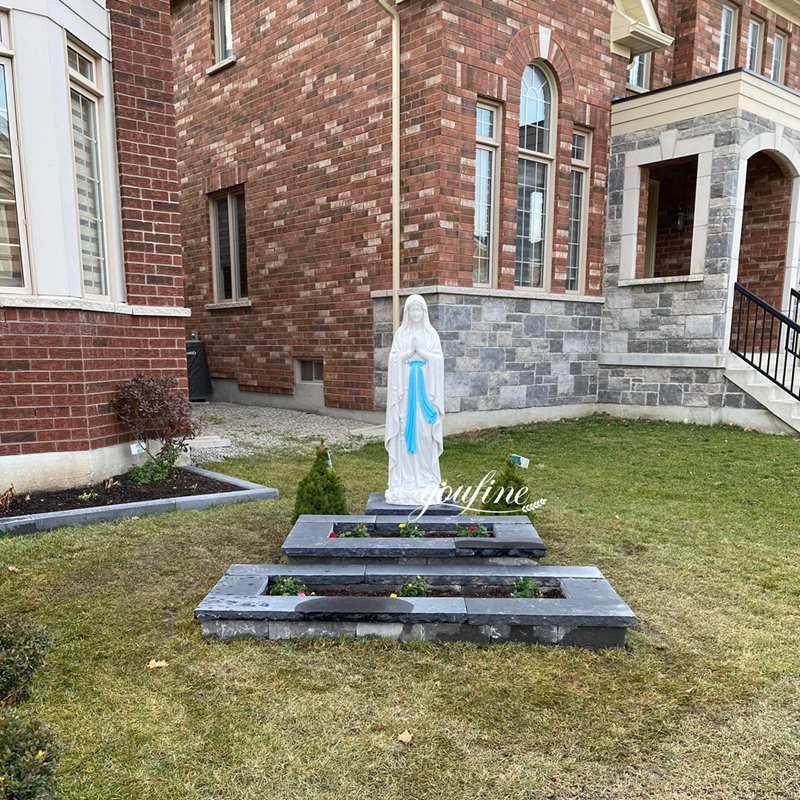 Feedback from the Austrian Church Project:
This marble sculpture of Our Lady of Lourdes is located at the foot of Sonnwendstein. Built with Austrian state funds, it was inaugurated by Cardinal Christoph Schönborn on December 7, 2020. It is located in the forest, above the fire station.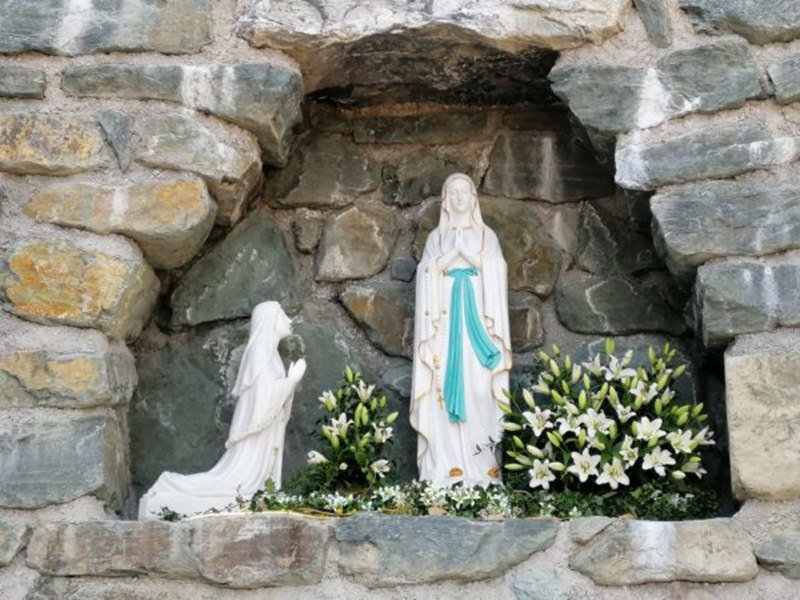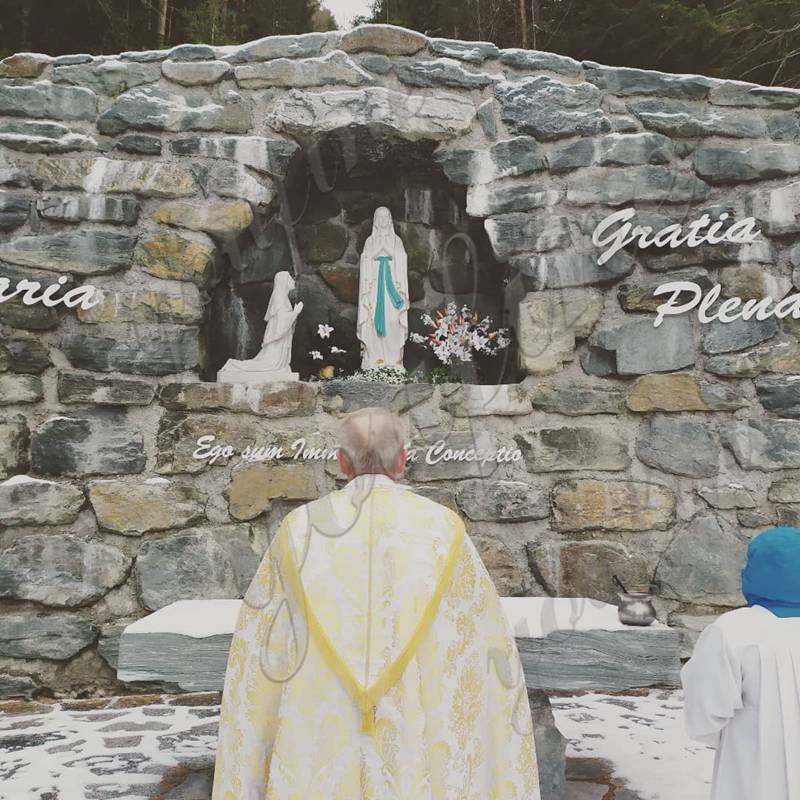 Church Sculpture Feedback from the Austrian Father
Wish we can achieve a win-win on both sides. We offer you the best quality marble religious garden status, and you are happy to receive it. Investing in an Our Lady of Lourdes Statue for your outdoor space is an excellent way to express your devotion and faith. It is a beautiful reminder of the power of prayer and the importance of Mary's role in the Catholic faith. Browse our collection today to find the perfect statue for your garden or outdoor space.
---
Previous: Beautiful Hand Carved White Marble Flower Pots MOK1-165
Next: Stunning Bronze Life Size Horse Sculptures for Garden BOK1-473
---

YouFine art and sculpture is a leading sculpture factory and exporter in Quyang County, which is known as the land of sculpture. And we are specialized in making hand-carved marble sculpture, life-size bronze sculpture, stainless steel sculpture and cast iron products. We have professional work group and designers. Your final product will not be finished until you have approved it completely.
 1. We welcome customized designs and sizes. We have a professional design team who can accommodate any custom project need. Exclusive mold studio and free model for use. We will try our best to satisfy your unique project requirements. 
2. To track your product progress, we will provide you photos at each important step in the process. You will clearly know how your sculptures are made in each production process. 
3. Good package and full insurance to cover all the risks during shipping. If something is damaged during the shipping, we will do our best to quickly send you a replacement.
Door to door delivery is also available.
4. The biggest difference between us and others is our commitment to the top quality in every aspect. From our skilled masters with sculpting for decades, to our strict QC team, we don't make delivery until you are satisfied. Making sculptures with heart, and doing it well are our lifetime goal.
You are more than welcome to visit our factory!
Looking forward to receiving your feedback photos or videos on YouFine sculptures!
————————————————————————————————————————————————————————-
Visible Quality, Professional Service.
❤ E-mail: [email protected]
❤ Phone: 0086-18974762151 | 0086-18632295031

❤ Whatsapp: 0086-13938480725
❤Address: Quyang County,Hebei Province,China