Outdoor Famous Bruno Catalano Sculpture Replica Traveler Statues for Sale BOKK-64
Product Detail
About You Fine
Product Tags

Introduction of Bruno Catalano Sculpture Replica
I had never felt, before, both my detachment from myself and my presence in the world. " —Famous Sculptor Bruno Catalano 
Our masters from YOUFINE SCULPTURE FOUNDRY Deeply studied the significance of the author Bruno Catalano's design sculpture, and our foundry has produced many Bruno Catalano  sculpture replicas, almost exactly the same as the original works.


A suitcase, a man. He seizes it, and goes to the unknown. Voluntary journey towards a horizon that one embraces and would like infinite, or forced trip, constrained by exile and suffering, in search of freedom and guided by survival. The traveler sculptures of Bruno Catalano is this man left to himself, a man propelled in the infinity of time and space. His house is no more than a suitcase and his being, gradually, will be stripped of everything he believed indispensable, all his self so skilfully built by our societies. He is no longer the man of a world, but the man in the world, still imbued with his culture but become fragile in the face of immensity. His quest will not be without damage. Man defragmented, destabilized, stripped of his bearings, he walks towards his salvation as much as towards his loss. Everything will now be reinvented. This traveler escapes from himself, to meet his unknown land.
A craftsman sculptor, as he defines himself, Bruno Catalano began his career in 1990.
if you are interested in Bruno Catalano Sculptures, pls email us :sales@you-fine.com.we will send all details about the all Bruno Catalano Sculptures designs to you.
The universal theme of travel has always inspired it. Since his first clay works, hundreds of travelers have been born from his hands. The main engines of his creation are exile and detachment. It expresses the idea of ​​a nomadic humanity, proud in misfortune, in perpetual quest for a better tomorrow.
His men in tatters, marching against adversity, carrying suitcases that seem to contain the world, his moving characters, holes, affect the novices as the most initiated. It tries by this concept to address the men of today whatever their age, pushed by this need of escape, persuaded to find elsewhere the happiness that they did not manage to reach.
"In my work, I'm always looking for the movement and the expression of feelings, I get out of form and wax inertia to give them life. Coming from Morocco myself, I carried these suitcases full of memories that I represent so often. They do not only contain images but also experiences, desires: my roots in motion. "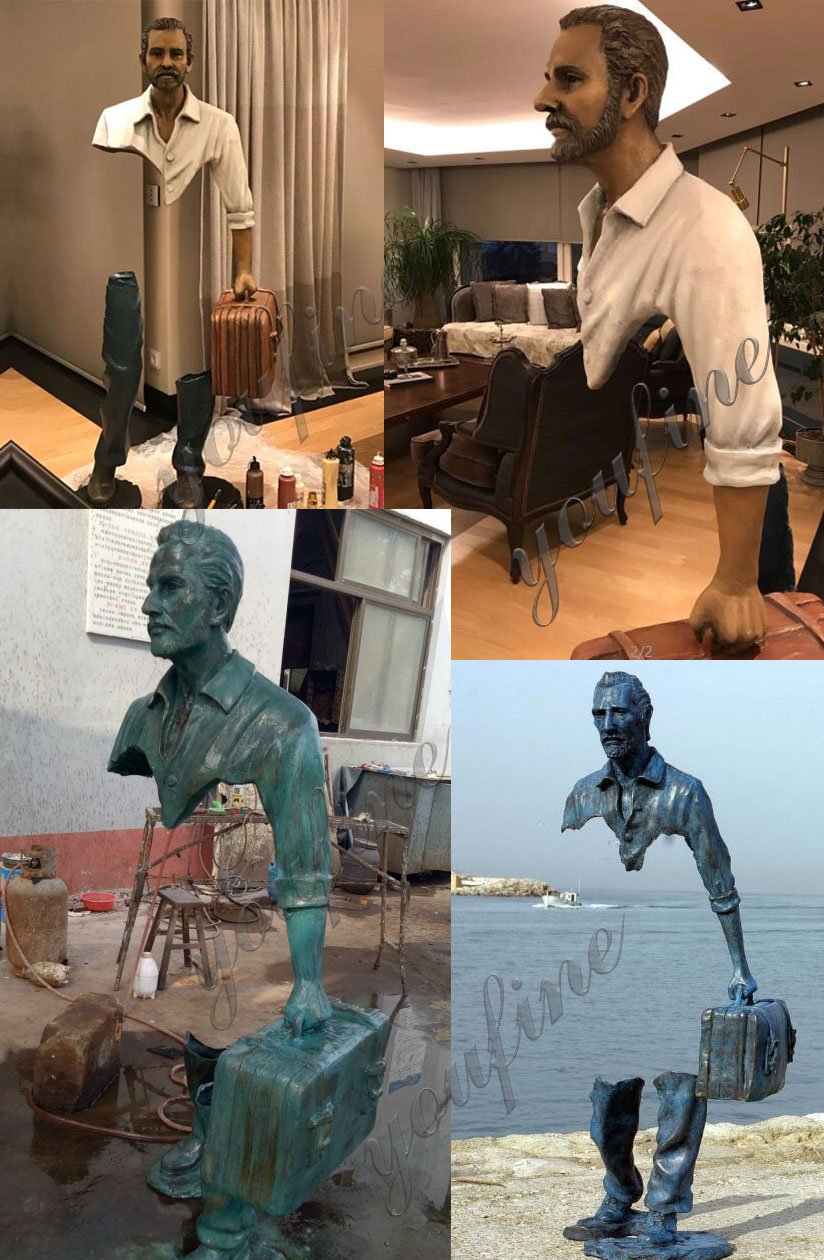 Biography of the artist:
Born in Morocco in 1960, from multiple origins and Mediterranean, Bruno Catalano and his family were forced into exile in 1975. Landed in Marseille with the hope of a new life, he keeps in memory the pain of uprooting. Became a sailor at 18, then an electrician, he meets art and sculpture on clay at 30, through artists such as Rodin, Giacometti, Caesar. He decides to devote his life to it.
Noticed for the first time in 2005 in a contemporary art fair by a Parisian gallerist, he evolves from clay to bronze, and carves larger and larger characters, thus realizing important technical prowess. Today Voyageurs is one of the most prestigious private collections, and is regularly the subject of exhibitions around the world.

■ 30 years' export experience, clients in 45 countries
■ Own quarries and factories make stable supply and competitive prices.
■100 cavers in marble factory and 80 cavers in granite factory make clients no worry of delivery.
■ Fine quality checking, QC team.
---
---

We are a leading sculpture factory and exporter in Quyang County, which is known as the land of sculpture. And we are specialized in making hand-carved marble, cast bronze sculpture,stainless steel sculpture and cast iron products. We have professional work group and designers. Your final product will not be finished until you have approved it completely.
 1. We welcome customized designs and sizes. We have a professional design team who can accommodate any custom project need. We will try our best to satisfy your unique project requirements .
2. We accept all different payment terms L/C, D/A, D/P, T/T, Western Union, Paypal etc.
3. To track your product progress, we will provide you photos at each important step in the process. Your final product will not be finished until you have approved it completely.
4. We will buy "all risks" insurance for your products during shipping. If something is damaged during the shipping, we will do our best to quickly send you a replacement.
Welcome to pay a visit to us!