Project Introduction: 
Project Name: Poland Private Art Collectors Project
Buyer: Jerzy Pawelek
Position: Warsaw, Poland
Time: From May, 2018- March 2019
YouFine undertook custom contemporary art sculptures, classical Greek Sculpture, famous sculpture reproductions for private art collector-Jerzy Pawelek in Poland in 2018. He loves antique and classical Greek sculptures, modern sculpture reproductions and some famous artistis' replicas. With great attention to details by YouFine, all our custom statues have a high degree of reproduction like the original.
More than 15pcs statues, including famous Perseus bronze statue, 2 pics ancient Greek  mythological sculpture sculptures, Saint Bartholomew marble statue, 6 pics famous bronze Igor Mitoraj sculpture, 2 pics Alberto Giacometti sculptures replicas,  Nic Fiddian-Green custom bronze horse head sculpture etc. Finished installation in 2019.
Project Details:
Here we show you the details of classical modern sculptures with museum-quality reproductions. YouFine has a high degree of famous sculpture reproductions like original.
Each custom bronze statues in YouFine starts with clay sculpture, then uses the lost wax technique to be sculpted, and then carefully hand-finished using a proprietary hot patina finish. In true Renaissance style, YouFine takes you on a trip back to Ancient Greece and the story of how the hero Perseus slayed the famous gorgon, Medusa. Our talented artists present vivid details from gushing blood from the holding severed head, and the writhing body on which he stands.
Ancient Greek Veilleur Monumental Warrior Statue
Inspired by Christophe Charbonnel, YouFine aritists draws creativity from Greek mythology. This ideal of beauty come from ancient art, and transpires through bodies, torsos and faces.
Ancient Greek Thésée et l'Amazone Warrior Statue
Group of warriors are full of the strength and emotion. The patina artist applies a secret formula of chemical method through various techniques, which make our sculptures vibrant, deep, and subtle. 
You can still see these sculptures can be seen in various places, such as the town-hall, museums, galleries, private houses, gardens, parks, cemeteries, and palaces etc.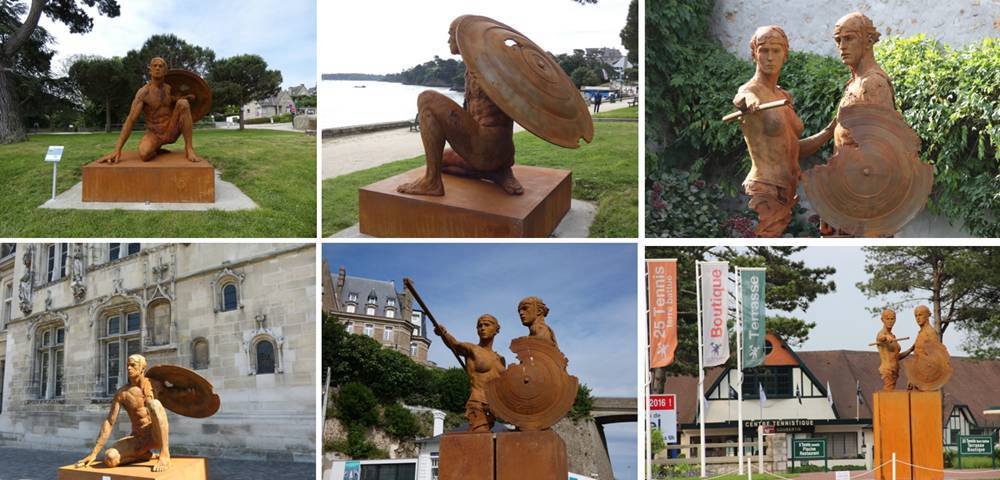 Saint Bartholomew Marble Sculpture
Finely carved from natural white Marble, this realistic depiction is a famous marble sculpture of the Saint Bartholomew Flayed by YouFine talented sculptors. The sculpture shows the martyr holding his own skin, each muscle, bone, and tendon articulated in stone.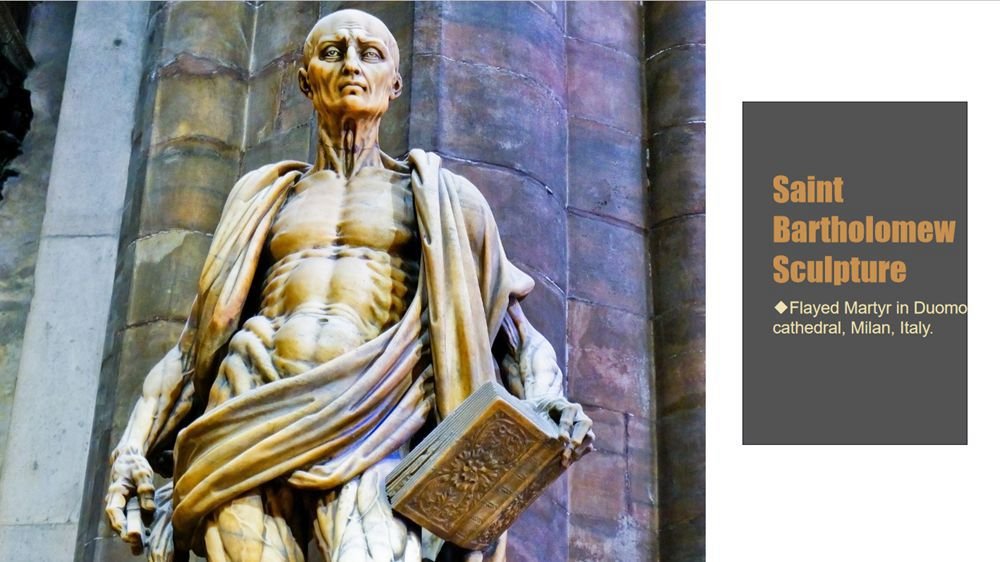 TIPS:
In order to make this polished white marble look like hundreds of years old, there are several surface treatments to deal with.
Use "potassium permanganate" coated to the stone carving with boiling water, making it soak in the interior.
According to the requirements of the color depth, wash the floating color on the surface with water, and wipe again with a little yellow mud to form antique works.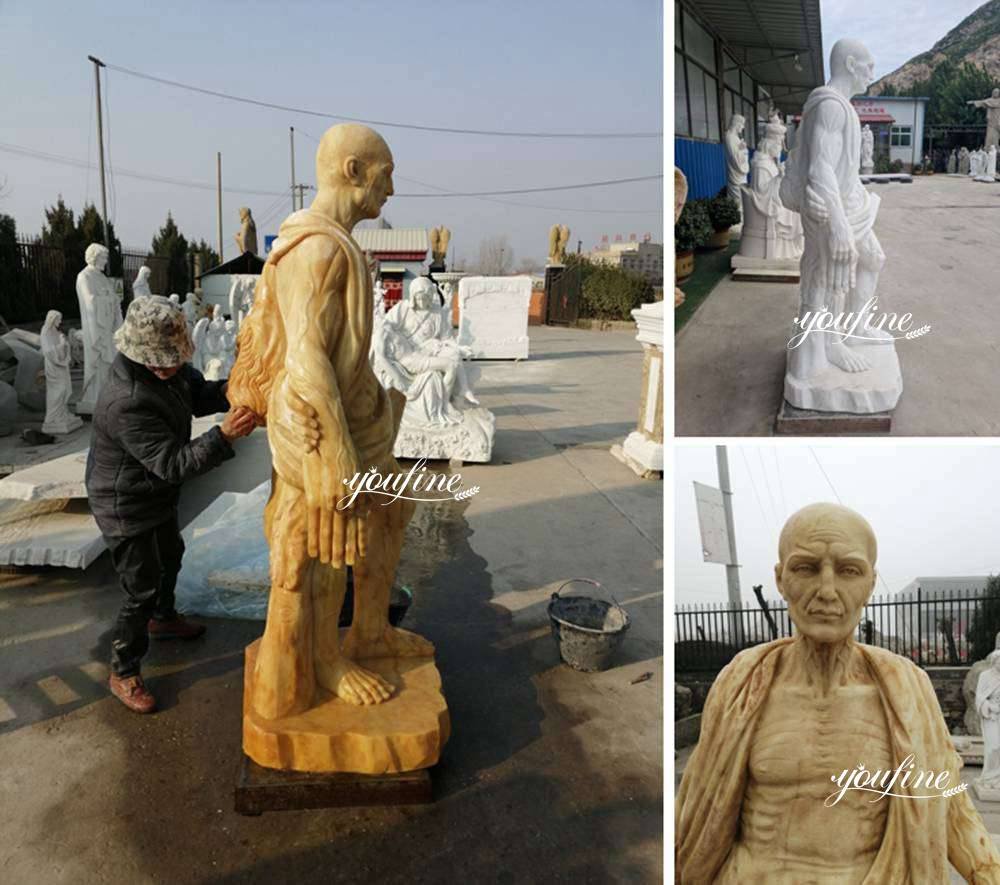 Igor Mitoraj Sculptures Replicas
Featuring fragmented bodies, our customers choose five designs of Igor Mitoraj sculptures. For this famous bronze sculpture, these sculptures can always make a big impression, proving to be highly collectable. YouFine high level of accuracy and detail, is essential to the success of any sculptures reproductions.
To start the process of making a custom bronze sculpture, we will firstly make 1:1 clay mold, which can preserve every detail. After bronze casting, our bronze sculpture is finished with hand applied patinas, which further brings out the intricate details and quality.
For those who have the same interest in art, please feel free to contact us any time!
Alberto Giacometti Walking Man Sculpture
Featuring extremely tall and slender figurines, these custom bronze Alberto Giacometti Walking Man Sculptures maintain a high degree of similarity like the original. These two designs vary from sizes, one is 240 cm, the other is 60 cm. The orginal artwork of Giacometti 'Walking Man' Sculpture sells for $104.3 Mill Auction Record. With the same quality, YouFine have affordable price.
Still Water Horse Head Sculpture
This outdoor custom bronze horse head sculpture of a giant disembodied horse head features as though the horse is sipping the water. YouFine talented artists perfectly grasp the essence of sculptures and make it alive.
 

Custom Made Service
YouFine not only offer museum sculpture reproductions, but also has museum-level. If you are fond of some artists' artwork, we can offer you the same replicas. Any ancient Greek mythological sculptures are available as requirements. We can custom-make all kinds of sculptures for you.
Any famous sculpture reproductions, classical sculpture reproductions, ancient Greek sculpture for sale, custom bronze sculptures and famous bronze sculpture are available!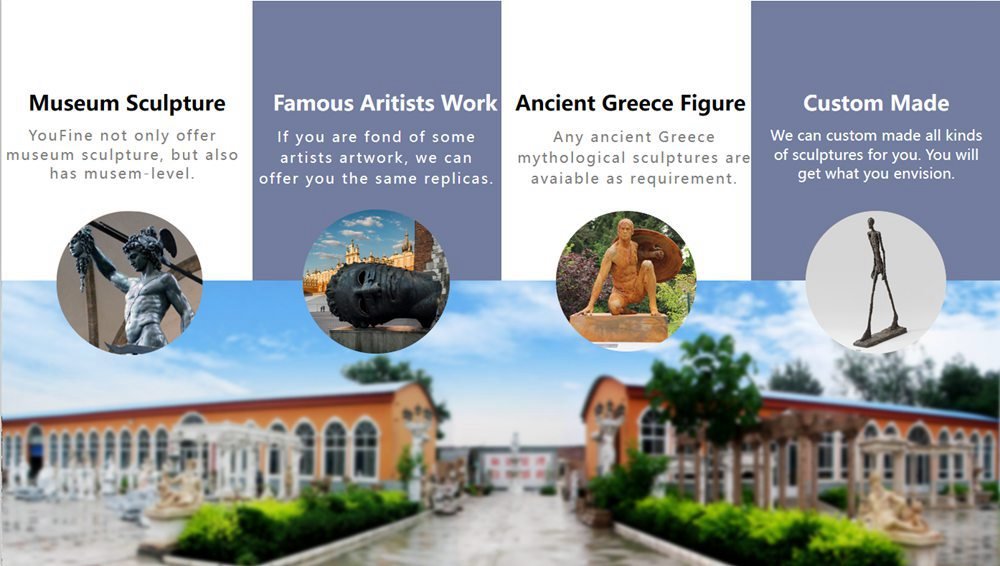 You will get what you envision.
Send your message to us:
---
Post time: Mar-03-2021