» Life Size Bronze Goddess of Law Lady Justice Statue
Product Detail
About You Fine
Product Tags
This lady justice bronze statue depicts a majestic woman holding a scale in one hand, symbolizing the impartiality of justice. Her eyes are blindfolded, symbolizing that justice is blind, impartial, and does not favor any individual or group. Her other hand holds a sword, representing the strength and power needed to uphold the law. Her elegant, flowing gown fell gracefully over her body, evoking a sense of regal composure and calm amidst the storm of legal proceedings. The craftsmanship of the statue accentuates the nuances of her expression, revealing a calm yet determined visage.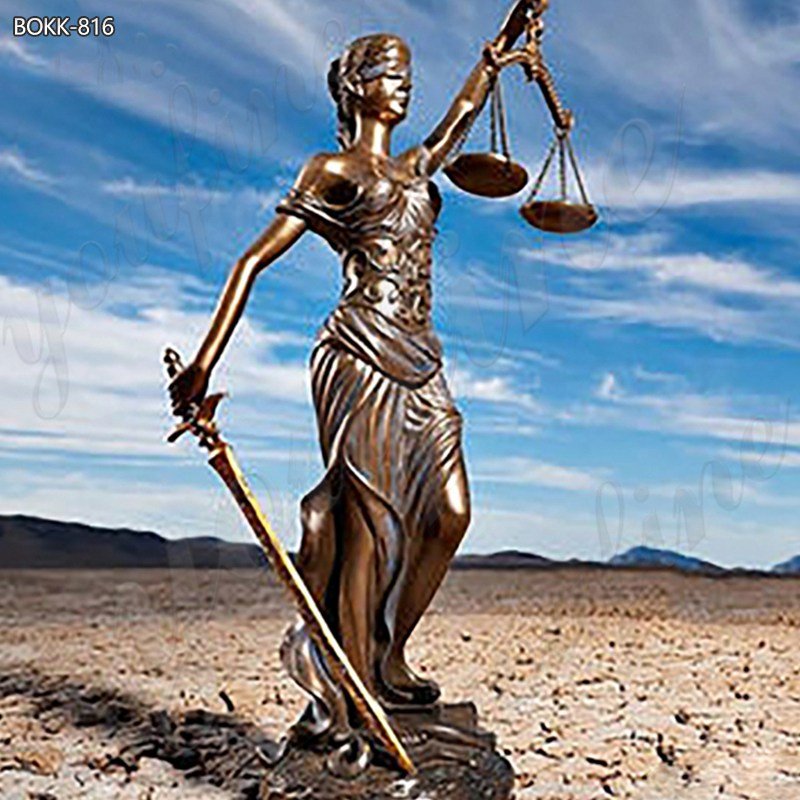 Placed on a sturdy pedestal, the lady justice bronze statue would command attention and respect wherever it is adorned. Whether located in a courthouse, government building or public square, it could be a powerful reminder of the principles that form the backbone of a just society.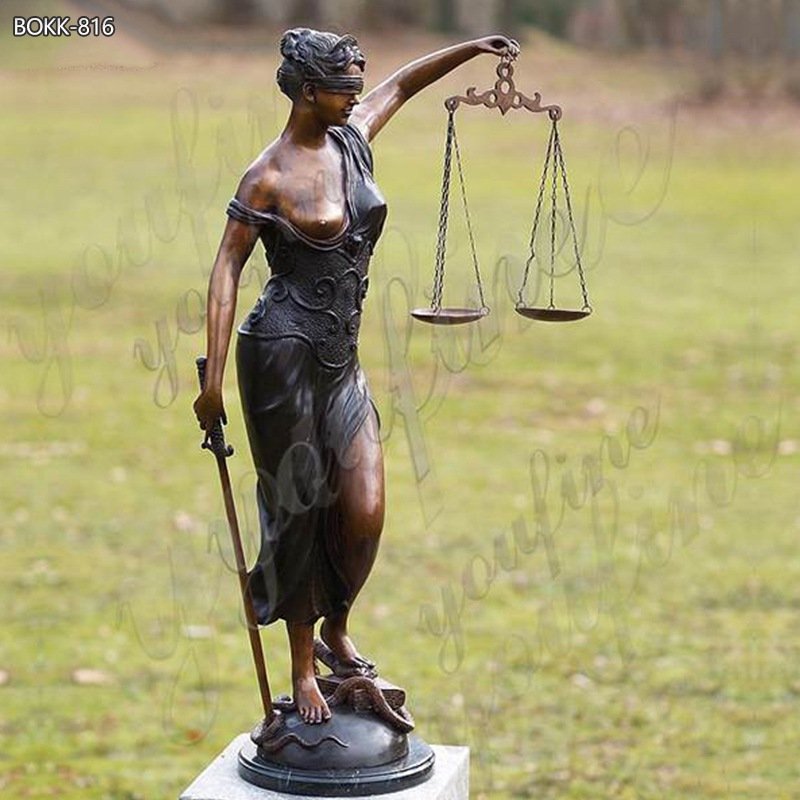 Throughout history, the image of Lady Justice has remained a symbol of eternity, resonating with people from all walks of life. This remarkable bronze sculpture is no exception, a tribute to the ideals of truth, integrity and the pursuit of fairness. As visitors gaze at the statue, they are reminded of the responsibility of those who uphold the law and the importance of ensuring justice for all. It serves as a reminder that justice must be pursued impartially, free from any outside influence or bias.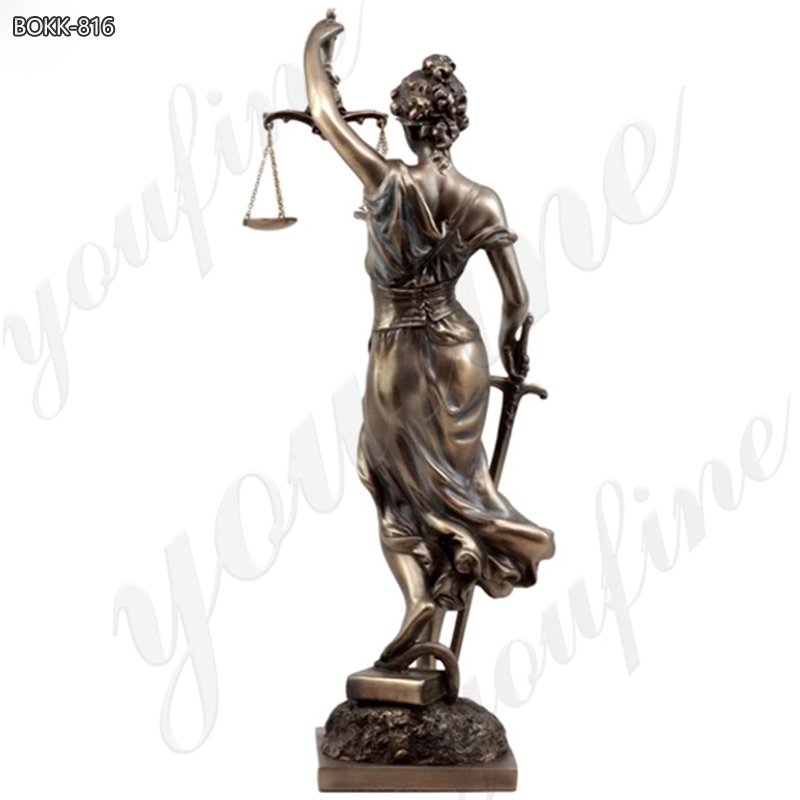 The Life Size lady justice bronze statue is more than just a work of art, it is a work of art. It testifies to the durability of justice and its role in maintaining a harmonious and fair society. Its presence inspires all who see it to strive for a world where truth prevails and justice prevails.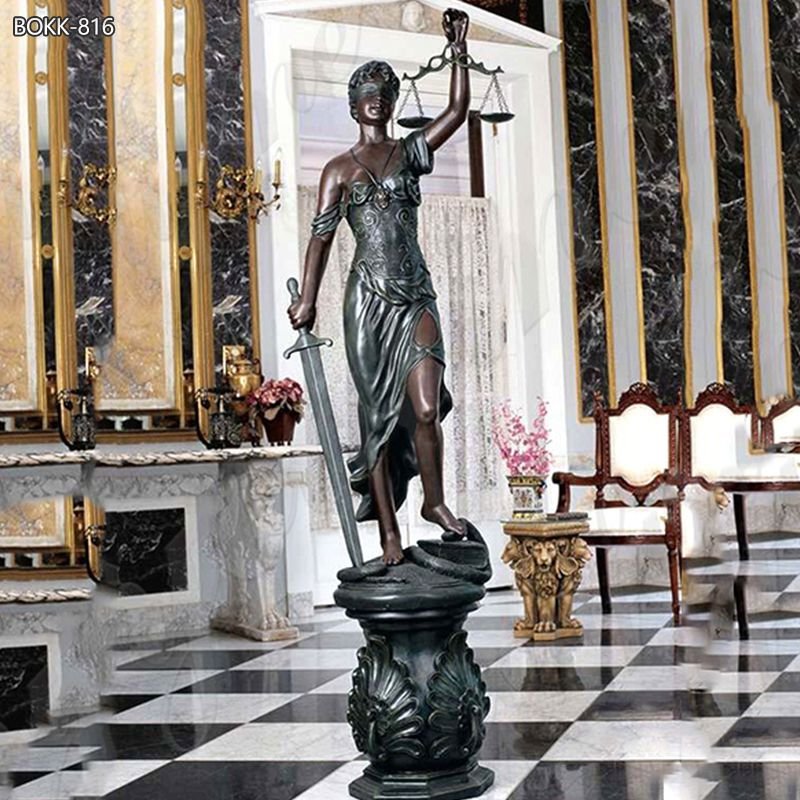 Advantages of YouFine making statues of Lady Justice:
As YouFine Sculpture Manufactory, we pride ourselves on offering a range of advantages that make us an ideal choice for customers looking to buy a bronze Statue of Justice. With decades of experience and a team of highly skilled artisans, we possess exceptional artistic virtuosity. Our sculptors meticulously carve out every detail to ensure that the Statue of Justice exudes elegance and embodies the essence of justice.
Custom Design Services: At YouFine, we understand the value of uniqueness. We offer a wide range of customization options, allowing customers to choose from a variety of poses, sizes and base designs. This ensures that each statue is tailor-made to the specific preferences and requirements of our valued clients.
Clay Model Making: The making of clay models for bronze sculptures is extremely important in the sculpture process, and at YouFine Sculpture Manufactory, we recognize and embrace this advantage wholeheartedly. Clay modeling is a critical step in the sculpting process. We would communicate effectively with our valued customers when making clay models. Clay models allow for constant refinement and iteration. Our skilled sculptors could modify and fine-tune details until the desired artistic expression is achieved. This flexibility ensures that the final bronze sculpture would be a beautiful embodiment of Lady Justice, perfectly capturing her essence and symbolism.
The clay models meticulously crafted by our top artists are the basis for the realism and exact proportions of the final bronze sculpture. Meticulous attention to every detail during the clay sculpting process by our skilled carvers ensures that the Lady Justice statue is lifelike and awe-inspiring.
Premium Material: We use premium bronze material to maintain the highest standards. This not only ensures longevity and durability of the statue, but also gives it a lustrous look that would stand the test of time.
Competitive Pricing: We believe in providing the best value to our customers. While maintaining the highest quality, we offer competitive pricing, making our Bronze Lady Justice Statues available to a wide range of clients.
Timely Delivery: We understand the importance of on-time delivery. With an efficient production process and reliable shipping partners, we ensure that our customers receive their statues in perfect condition on time.
Customer-Centric Approach: At YouFine, customer satisfaction is our top priority. Our professional customer service team is always ready to assist customers with inquiries, update orders and meet any specific requests that customers may have.
Worldwide Shipping: We proudly offer worldwide shipping, securely packaging each statue to ensure safe shipping to any destination.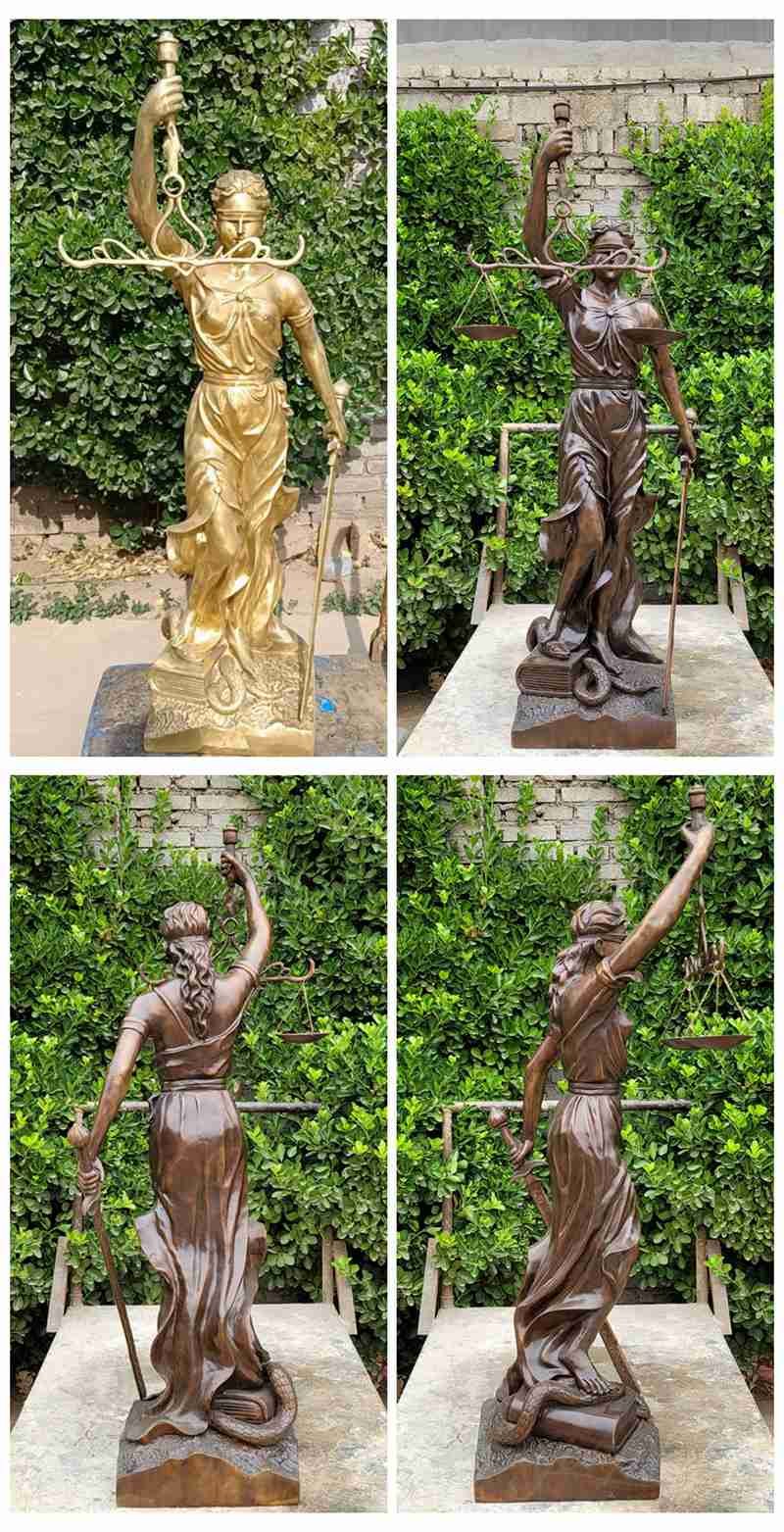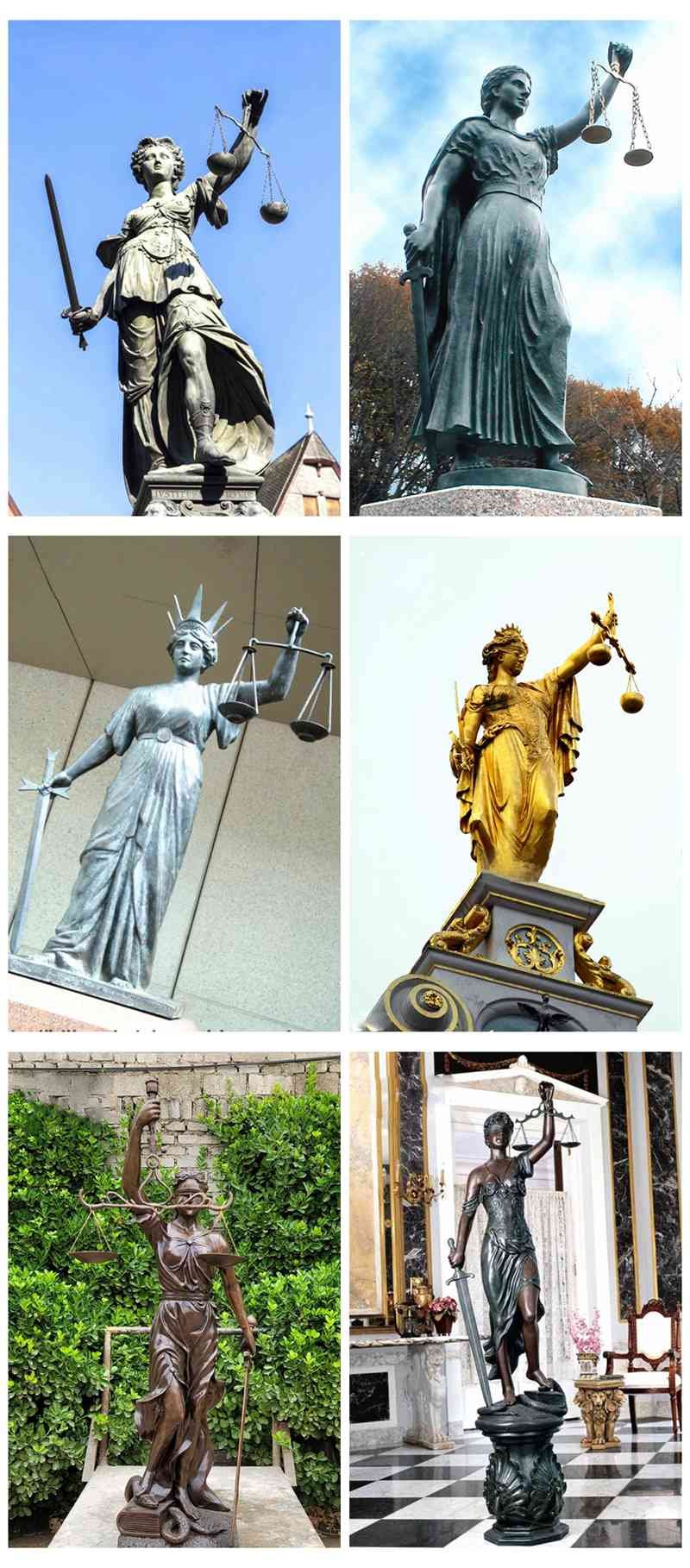 By choosing YouFine sculpture manufacturing factory, customers could have a seamless and rewarding experience. Our dedication to artistic excellence, customization options, quality materials, and exceptional customer service make us the premier destination for purchasing a captivating bronze Statue of Justice that would inspire and captivate generations to come.
---
Previous: Hand Carved Marble First Secret Entrusted to Venus for Sale MOK1-207
Next: Majestic White Marble Lion Statue Fireplace Surround for Sale
---

YouFine art and sculpture is a leading sculpture factory and exporter in Quyang County, which is known as the land of sculpture. And we are specialized in making hand-carved marble sculpture, life-size bronze sculpture, stainless steel sculpture and cast iron products. We have professional work group and designers. Your final product will not be finished until you have approved it completely.
 1. We welcome customized designs and sizes. We have a professional design team who can accommodate any custom project need. Exclusive mold studio and free model for use. We will try our best to satisfy your unique project requirements. 
2. To track your product progress, we will provide you photos at each important step in the process. You will clearly know how your sculptures are made in each production process. 
3. Good package and full insurance to cover all the risks during shipping. If something is damaged during the shipping, we will do our best to quickly send you a replacement.
Door to door delivery is also available.
4. The biggest difference between us and others is our commitment to the top quality in every aspect. From our skilled masters with sculpting for decades, to our strict QC team, we don't make delivery until you are satisfied. Making sculptures with heart, and doing it well are our lifetime goal.
You are more than welcome to visit our factory!
Looking forward to receiving your feedback photos or videos on YouFine sculptures!
————————————————————————————————————————————————————————-
Visible Quality, Professional Service.
❤ E-mail: [email protected]
❤ Phone: 0086-18974762151 | 0086-18632295031

❤ Whatsapp: 0086-13938480725
❤Address: Quyang County,Hebei Province,China